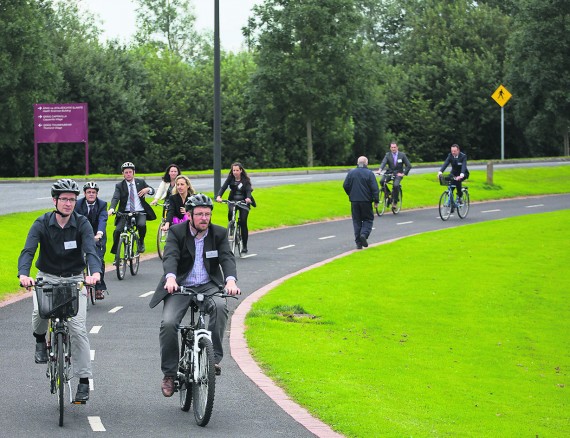 By Seán Collins
The University hosted a panel of Green Campus assessors selected by An Taisce as the final part of the Green-Campus Assessment process on Wednesday, 9th September. UL is hoping to join a number of Irish universities such as UCC, TCD and DCU that already enjoy green flag status. 'Travel & Transport' is one of the themes under which the university is seeking this prized acclamation. The other themes are 'Energy and Biodiversity'.
The An Taisce panel had already read about the smarter travel initiatives that have been carried out in UL in a Green-Campus Application report but they had a chance to review the facilities first hand during their cycling tour of the campus last week.
Following a meeting with President Don Barry, the panel of six visited the Roof Garden, the state of the art Analog Devices plant room and the Arboretum before taking a walk over the Living Bridge and hopping on a number of the UL Fleet Bikes.  From bikes, the panel enjoyed a visit to the Apiary, the Secure Bike Hub and the new ESB e-cars charge points before stopping at the Smarter Travel stall for a brief presentation on the smarter travel semester-start events.
The panel offered their congratulations to Ross Higgins, UL Smarter Travel Coordinator, and Sean Collins, UL Smarter Travel Deputy Coordinator, for their efforts in encouraging the campus community to use alternatives to single-occupancy driving.
The University recently won the Smarter Travel Campus of the Year Award, the Cycling Campus of the Year Award, the Students' Union Campus of the Year Award and the RSA Leading Lights Award following the implementation of a range of measures aimed at encouraging smarter travel.
One of the panelists, Dr Michael John O'Mahony from An Taisce, added: "UL is such a beautiful campus with great facilities; why would anyone consider not cycling?"
Chris Fogarty, UL Energy Manager led the University's application and is hopeful of a positive judgement from An Taisce within two weeks.