The UL Student Life (ULSL) General Meeting was held last week in Kemmy Business School.
The main proposal put forward was a constitutional amendment " to change the names of the interest groups and their Chairpersons to ones that are more relevant to the role itself and to students."
The proposal could not be passed as the minimum quota of one hundred students required to pass the proposal was not met.
The meeting was also an opportunity for students to hear from Union Officers on their main goals for the college year to improve students experience at UL.
The sabbatical officers discussed their main goals for the year at the UGM.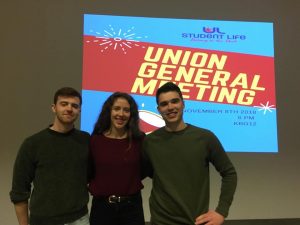 President Ciara Jo Hanlon's main goals included the introduction of a student Charter and to have UL Student Life directly involved in the critical incident plan currently being devised by the University in order to become a "primary source of representation for students" in the case of an incident.

The Student President also gave details on the life skills module they plan to pilot with a first year faculty next September, which will teach students key life skills on general wellbeing, nutrition, budgeting and finance, to help them transition from 2nd to 3rd level education.

Student Welfare Officer Lorcan O'Donnell's main goals for the year are to develop and implement more anti- sexual assault initiatives, campaign weeks, drug awareness and harm reduction education and improved HIV support.

Mr O'Donnell said great progress had been made on these goals including  29 consent workshops to over 500 first year students and the launch of the It Stops Now campaign with the Women's Council of Ireland.

Other achievements include the launching of the ULSL End Direct Provision Campaign and the Online Drinks Meter which is currently being developed with the CSIS department.
Student Academic Officer Mathew Murphy's main goals for the year are to reform the repeat exam system and establish an entrepreneurship office for students.

Mr Murphy said that he is looking to implement a system where students may carry over one 6 credit module per semester from 1st year to 2nd year for when students QCA is below 2.00, as he believes the current linked-in system is not beneficial for students.

Equal Opportunities Officer Niamh Tubridy also spoke at the meeting.
Her main goals included promoting inclusion and diversity for LGBTQIA+ students, international students and for students with disabilities.
UL Experience Chairperson Liam Gleeson main point concerned students' rights as tenants.  

Finally the UGM initiated open discussion on the topic of student safety and access around campus which allowed all students to give their input.

A major point put forward by students was the idea to map out the blackspots for wheelchair accessibility around campus.

The union hopes to see more students attend next semesters Union General Meeting and are already working on ways to get more engagement next time around.

The Union General Meeting is an opportunity for students to find out what's happening in UL Student Life and give them the chance to raise any burning issues and questions to the sabbatical officers.