By Louise Kennedy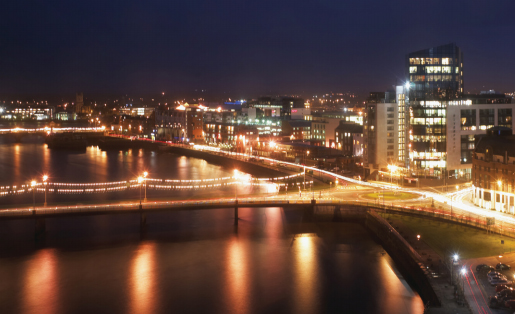 UL is the fifth largest University in Ireland and was voted the best University in 2015. The University is home to over 12,000 students, with 2,400 of those being International according to 2011 statistics. However how many of these students have ventured outside campus and explored Limerick and its surrounding areas? Being from Limerick myself I know just how beautiful and vibrant my city is. I've decided to write a list recommending things to do in Limerick to encourage people to venture into the city and experience the best the Limerick has to offer.
Limerick has a wide variety of shops to suit everyone's taste and budget. The city is packed with shops from River Island to Foot Locker, all within walking distance from each other. You are bound to find anything you are looking for, especially with Penneys in the heart of the city. For those unfamiliar with Penneys it is a hotspot adored by those near and far where you can buy just about anything for a fairly cheap price. From fake tan to onesies where could you go wrong? However if It's raining and miserable out why not venture to The Crescent Shopping Center, located just 15 minutes from the city center. It is easily accessible as it is the last stop on the 304 city center bus from UL. In the shopping center, there are multiple shops from health to gaming to retail. Just beside the shopping center is the Omniplex cinema, for those of you wild enough to make a change from the Odeon.
Places to eat are abundant in the city center. The cuisine ranges from fast food to restaurants and you are sure to find something that suits you. The best place to eat is without a doubt Chicken Hut. I cannot recommend the gravy chip enough, also a perfect place to go after a night out for the craic instead of Top Pizza. Donkey Fords is also a popular chipper, with their battered sausages being a delicacy. To make the most of your money I recommend Apache pizza. The five euro meal deal can't be beaten, but don't forget to buy the garlic dip. However, if all that isn't classy enough for you, Marco Polo or The Texas Steak Out are top class restaurants. With a wide variety of dishes and student menus available it's an offer not to be missed.
If it's the music scene you are interested in, Dolans Warehouse on the Dock Road is the most popular gig venue. This small, intimate bar has had numerous acts play there such as The 1975 and The Rubberbandits. The Lime Tree Theatre in the city center is the home to dozens of plays and musicals throughout the year and all at affordable costs. The Milk Market and Thomond Park occasionally host musical acts such as Bruce Springsteen – but beware these come at a price! If it's Irish music you're interested in why not go to a trad night in one of Limericks most popular pubs – The Locke – where it's ll at no extra cost? Except the pints of course!
Sport is one of the main things Limerick is known for. With that being said, there are countless activity facilities to avail of. There are a few pitch and putt courses – one located in Monaleen, not far from campus.  For those adrenaline junkies, National Go Kart center in Limerick is the largest in the world and there are great group prices which are ideal for students. Paintballing is also available in Limerick and they offer great deals and cater to all kind of events! However if that's not your thing, Jumplanes, an indoor trampoline center has just opened in the city centre. For fitness classes or just a jump around it's ideal. If you're a bit more adventurous, Rollerjam is Limericks Roller Skating rink. Located on the Ballysimon road, it's just a walk away from campus.
With all this in mind I hope I have enticed you to go out and explore the city and experience all that Limerick has to offer. More info on facilities and directions in Limerick can be found at www.limerick.ie