By: Chloe O'Keefe
Welcome to week 6, everybody! That's means it's charity week!
The Student Life centre has been bursting with students in their dozens purchasing their tickets, with many of the announced events already sold out!
The line-up is amazing, as always courtesy of the ULSU Ents team and UL Student Life, and there is definitely a buzz around campus, especially as neighbouring Limerick colleges and universities have already had their Charity Week, so the students of UL are truly buzzing!
What is Charity Week, though? A week where the craic and banter are had, and students are out for the whole week?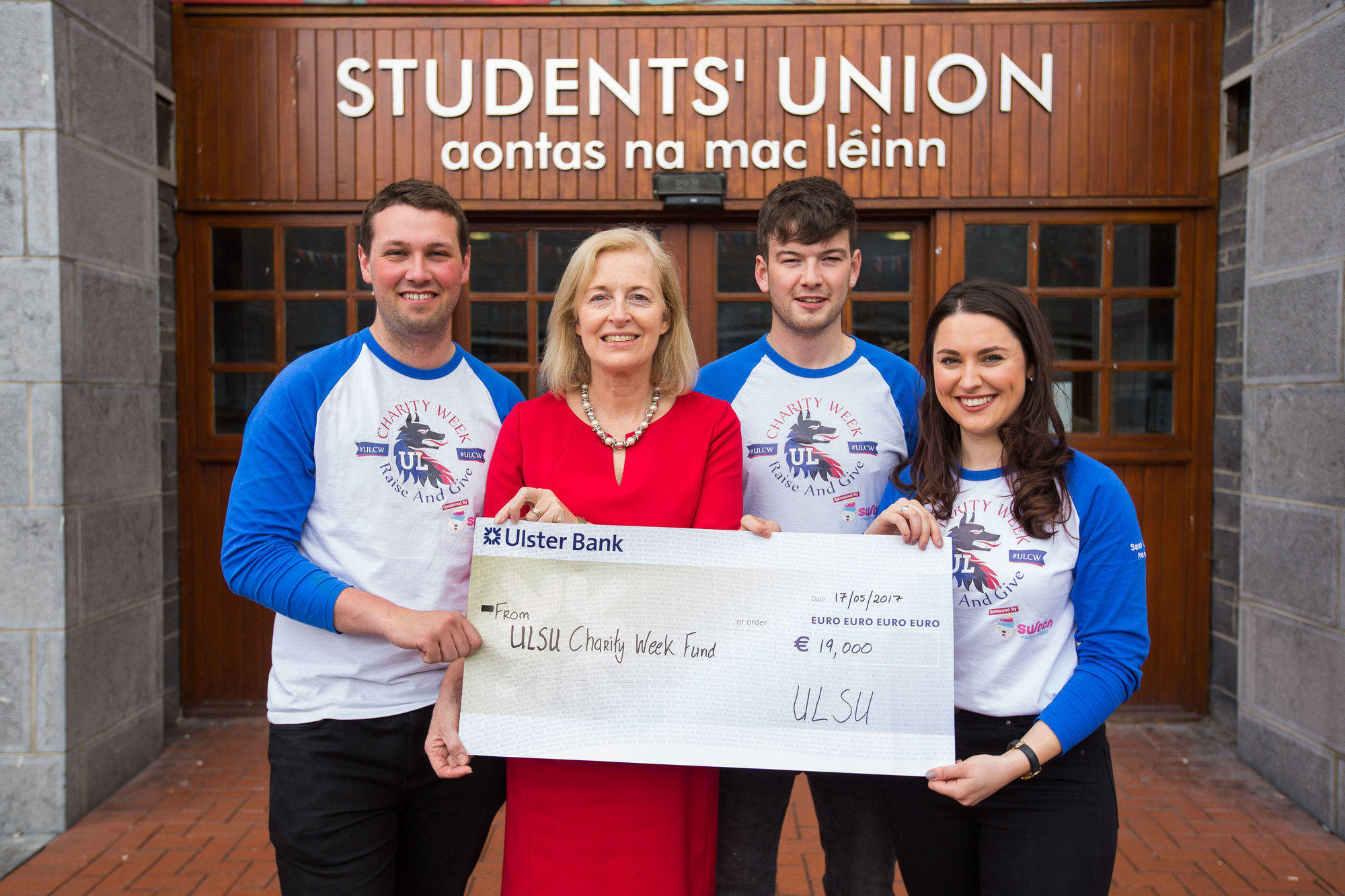 Charity Week, formerly known as Raise and Give Week (RAG Week) is a week in every college and universities calendar whereby the student unions choose some charities and to raise money for them, put on a week of events, whereby the ticket sales and other donations will be distributed amongst the various charities.
Formerly RAG Week, the University of Limerick Student Life re branded the week-long event into Charity Week, along with the help of An Garda Síochána, Limerick County Council, and the local Residents' Association in hopes to furthermore emphasize the actual reason behind Charity Week: worthy fundraising activities working towards ensuring good relations with the local community.
This year the University of Limerick Student Union have chosen the amazing charities.
Rape Crisis Midwest
Clare's Wish Foundation
Limerick Suicide Watch
The Peter McVerry Trust.
Having previously raised substantial amounts of money for the assisted charities, UL hopes to follow the same path as previous years.
The aim of the week is, of course to raise money for worthy charities, and this year it is no difference, with UL choosing four very different, but very important charities.
Speaking to An Focal, the Fundraising and Awareness Officer of Rape Crisis Midwest spoke of how honoured they were to be a chosen charity for the Charity Week, "Not only will this partnership bring in much needed funds allowing us to continue delivering support services to survivors of sexual violence, but it will also lead to a raised awareness level of our centre with the student population in UL which is hugely important."
Rape Crisis Midwest was founded in 1980 by a group of men and women who were concerned about the lack of services for survivors of rape and sexual abuse.
To this day, the organisation is still policing a vision of a society where all forms of sexual violence are upheld.
In doing this, they try to raise as much awareness as possible, and commits to providing equality of services and care to everyone, regardless of age, gender, race, etc.
Limerick based suicide prevention group, Limerick Suicide Watch are equally as happy to be on board and gaining financial assistance in patrolling between the four bridges in Limerick City.
The main focus of this particular organisation is to keep their eyes on the river and identify as well as support those in distress and/or may be contemplating suicide. The service is wholly voluntary and depends on volunteers and money, as it is aiming to patrol the river seven nights a week in the near future.
The Peter McVerry Trust is a charity that was set up in 1974 by Fr. Peter McVerry who envisioned to reduce homelessness and the harm caused by misuse of drugs and social disadvantages.
It began in Dublin, but since then the trust has launched in Limerick, working with Limerick City and County Council to identify and respond to housing needs.
Clare's Wish Foundation is known to be the only Irish charity that has granted adults with life-limiting conditions, with a mission to continue to grant the wishes of adults who have terminal medical conditions to enrich and enhance their quality of life.
These granted wishes to provide respite from the usual routine of hospitals, doctors, and treatments.
Clare's Wish Foundation aims to make wishes that have an ever-lasting impact on the whole family, and creating memories along the way.
These experiences include, "a spa weekend for a woman suffering from cancer, a helicopter ride for a man suffering from MS and a family break for a terminally ill mother," speaks Founder, Fundraising Executive, and Wish Granter, Kevin Clancy, of Clare's Wish Foundation.
Charity Week takes place Week 6 of this semester (February 24- 29). All these charities are very worthy charities focusing on very worthy causes, so be sure to be charitable this Charity Week!
And here's hoping the festivities aren't cut short this year due to a historic snow storm!