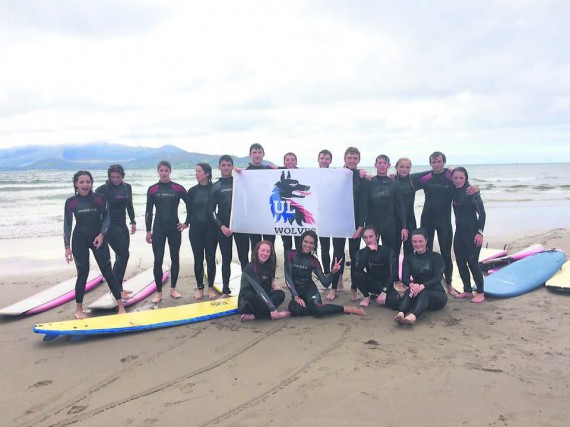 By Barbara Campos Perez
Famous for its waves and good craic, Castle Gregory was the first surf destination chosen by the UL Surf Club to welcome all its new members for this academic year.
On an early Saturday morning 75 people made their way to the lovely lands of Kerry, and arrived to pleasant weather and perfect waves conditions for both beginners and intermediates.
It was especially perfect for some of the beginners who were catching the first waves of their lives.
Swimming in the sea, feeling the boards and waiting for the waves brought everyone in the water together. Surfing involves patience, perseverance but the companionship felt in the water is unmistakable. All these elements came together in a unique was during this trip, where both Irish and International students embarked on a new journey of exploration together.
Alas, the waves were not the only highlight of this amazing and unforgettable weekend. After the exhilarating day of surfing the members set up camp in the beautiful dunes of the Maherees, right next to the beach. Everyone was able to enjoy the magic of the stars and music next to the bonfire. Dinner was prepared in the hostel located in Castle Gregory village for all the hungry members.
Unfortunately, the weather didn't stay so pleasant all weekend, the following morning everyone was woken up to the not so gentle sound of rain against the tents. Luckily the rain passed and it was time to start a new day of adventure and of course more surf.
Following the trip people really felt a part of the surf club family, finishing the weekend with many new friends but also with new personal challenges, to continue practicing and enjoying the soul of surf.
The pool session after the trip proved to be a record breaking session with 110 surf club members present. The most people the pool has seen from one club at one time. The balance session, where members practice balancing skills on skateboards and walking on slack lines was also a record breaking number for the club.
UL Surf Club has more adventures in store for its members during the year. Keep in touch and visit the Facebook group so you don't miss any new updates. Who can join? Everyone, no matter of the abilities or experiences in surfing!