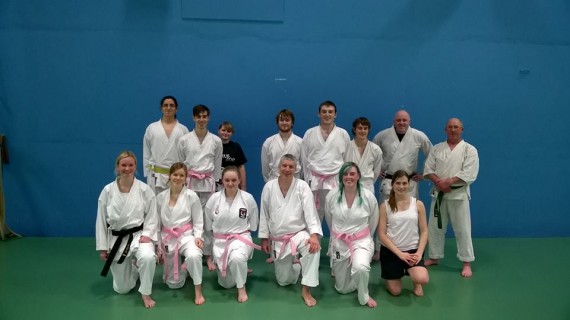 By Gabrielle McCormack
Pink is not a word often associated with those in the UL Karate Club. So when the newer members of the club arrived to training at the start of October to find the usual array of coloured belts replaced by a sea of pink, they were quite shocked. However, there was a valid explanation. The UL karate club is proud to participate in 'Pink Karate', where pink belts are purchased in aid of breast cancer awareness with all the proceeds going to cancer related charities. Needless to say, those who didn't already own one couldn't wait for the order to arrive.
In early October, the club played host to a seminar by renowned Irish sensei, Gar O'Donovan, who previously coached the Irish Senior Squad and currently coaches the Junior Squad. This seminar consisted of two hours of perfecting difficult combinations, improving reflexes and stances, and learning new sparring techniques. Everyone in the club gave their all when training as he missed nothing and mistakes were always noticed. While the training was hard and everyone left tired, nobody left without a smile and a sense of pride that they could achieve such high standards.
Over the last few weeks, UL Karate Club have also been lucky enough to fundraise over €1,200 from both bag-packing and our Bake Sale during SoUL Week. Thank you to everyone who helped out, all the funds will go towards future activities, especially our Japan Trip in January. Around 10 members were selected last year to go to Tokyo, Japan in early January 2016 for 10 days of training, sight-seeing, and exploring the Japanese Culture. Our last Japan Trip was a huge success in 2014, and with some re-visiting Japan and others going for the first time, it's going to an unbelievable experience to say the least! Training in Japan has always been our big event, and as we go every second year, it gives us plenty of time to train, prepare and fundraise, so that every committed member gets this fantastic opportunity.