With an image reproduced on prints, t-shirts, even drink coasters, there's something curiously unmistakable about Mexican artist Frida Kahlo. A face which symbolises defiance, glaring through naïve styled brushstrokes with her trademark bushy brows and traditional headdress. All generations have seen unusual statement trends, but Frida's popularity spawns from more than just an absence of a tweezer. Instead, she has become the ultimate symbol of survival, defeating all odds to become one of the most globally recognised artists.
Kahlo's impact on me was so profound, I veered into the obsessive researcher, guzzling up any information on such a unique mind. For me, her radical vision of her own image and her naïve portraits seemed to define such powerful, loaded statements. She moulded a life just as colourful and vibrant as her art, creating a chaotic masterpiece in just 47 years.
She was born on the sixth of July 1907 to a family of five. Later, she would claim her birth took place three years later to coincide with the Mexican revolution. Although she didn't succeed in concealing her real birthday from modern historians, she cemented her name in a truly revolutionary status, mostly down to her attitude in the face of adversity.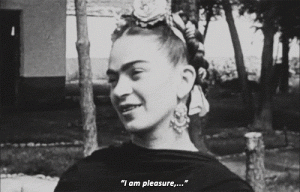 Frida's art runs adjacent to chronic pain. She contracted polio aged six, leaving one leg shorter than the other.  After dabbling in art throughout her childhood, she failed to prioritise it in terms of career. A clear favourite of her photographer father, she was beginning to prepare to study medicine in an elite preparatory school. When returning home from school, her crowded bus collided with an electric streetcar. The crash fatally wounded several, with Kahlo suffering an iron handrail impaling her pelvis. With a broken spine in three places, her leg shattered and collarbone in pieces, few could anticipate Kahlo's survival, let alone success.
Her childhood crutch of art offered a ray of light, painting while bedridden. Mostly, her ovra consists of self-portraits, which she justified by saying- "I am the subject I know best, the subject I want to know better."
Kahlo was inspired by a muralist named Diego Rivera, who had been working on a mural 'The Creation' on her old school campus. Her self-portraits remain her most iconic subject, often conveying her deep physical and emotional turmoil in a shocking, vivid manner.
Of course, one could not delve into the work of Kahlo without mentioning her passionate, lifelong love affair with Rivera. Ironically, the feminist revolutionary spent the majority of her life in her husband's shadow, as he garnered worldwide attention for his determination to make Mexican history accessible to all. He did so through large, tumultuous murals. Despite the pair being described as "the frog and a dove," for their juxtaposing looks and ages, the relationship served as Frida's muse and tormentor for the remainder of her life.
What remains most intriguing about Kahlo's complex personality is her warring relationship with her gender. Often, she would dress in suits, making her moustache prominent and eyebrows a masculine shield, while she was also deeply self-conscious about her teeth and embraced her femininity through a large collection of make up and exploding traditional Mexican headdresses.  Kahlo's bisexuality also furthers her liberated persona.
There is also  a deeply political side to Frida's legacy, amplified by her affair with Leon Trotsky. As a passionate communist, her house in Mexico provided refuge to the exiled Bolshevik. Her husband's association with the party led to his murals largely being covered up in the States, as well as garnering the couple's legacy relative controversy in their home country. As Frida and Diego preached equality for all, they still lived in a relative mansion and had a well-off lifestyle in the ever-unequal Mexico.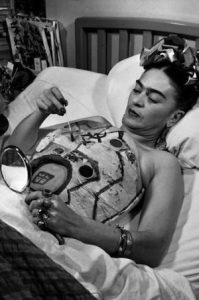 Interest in Frida continues to thrive, with a sell-out exhibition "Frida Kahlo: Appearances Can Be Deceiving," in 2019, displaying items such as her cosmetics, back brace and prosthetic leg. Salma Hayek portrayed her in the 2001 movie 'Frida', also appearing as a character in Pixar's modern
classic 'Coco' and her legacy continues to inspire creatives such as writer Jessie Burton and singer Florence Welch.
Perhaps it is Frida's individuality in never confiding herself to just one dimension which allows her image to endure over the years. Universal obstacles such as pain and heartbreak are all woven into her accessible, naïve art that can articulate emotions few have dared specify- from miscarriages to warring gender identities. Kahlo's unapologetic nature, despite being riddled in her own insecurities, continues to speak volumes about society and femininity as a whole.