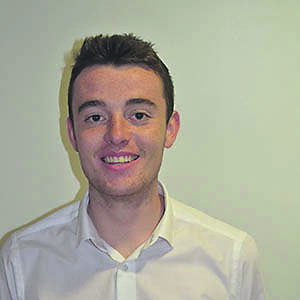 By Colin Clarke
I love this job, it's a fantastic privilege to represent 14,000 of your peers. The role of the president is a vital one as it commands a certain level of respect from the university. Unlike other members of the union or the university, the university cannot help but listen to the president as they are the voice which represents student views. But with the role comes a responsibility in that you must actively lobby the university and relevant statutory bodies in order to improve many aspects of the student experience.
This year, as a union, we have placed a lot of emphasis on increasing the activism of the SU. One of the first things we did once we took over from last year's team was to release a press release stating that there was a severe need for increased counselling services in UL due to an increase in students seeking help. Press releases and media coverage has increased five-fold this year. In four years there was almost a 100% increase in students looking to talk to someone with figures of nearly 1,000 students going through the counselling department last year. I see those numbers as a positive thing as more people are seeking help and talking about their mental health. The problem was that even with the notable increase in demand there was no increase in services or resources.
Nationally we are running campaigns like Please Talk and Mind Your Mental Health which are working but then we are not accounting for the success of the campaigns with increased resources. For me the importance of lobbying was highlighted when the university announced it was going to invest to clear counselling waiting lists. I brought the issue of student welfare in terms of counselling up at every possible meeting. We were then forced to go to the Limerick leader in order to raise awareness and to force the universities hand. It was through governing authority that we were able to muster enough support to ensure the university could no longer ignore the problem and in October they announced an additional 20 sessions per week which was in effect another full-time counsellor. This was to be in the interim period until a full term solution could be agreed.
Earlier this month a new deputy head of counselling full time position was agreed by the university and is expected to be confirmed shortly by the recruitment committee. Head of counselling Declan Ahern said that this was going to be the first full time counselling position any of the seven universities has gotten in years. He also acknowledged that without the Students' Union lobbying for this it would not have happened. It's great to know that your work will directly have a positive impact and help struggling students.
Another instance when activism proved important was when the crisis in the medical centre occurred and we were left without any doctor on campus some days. Students' were being told that they would have to go to the Castletroy Park Medical Centre and pay €40 and claim back €15 from the university. This was a situation that was never going to work as students simply don't have the money and would rather afford to eat for the week than go to the doctor. The reality is that we need a fit-for-purpose medical centre that engages with students needs and will also support our welfare officer and the union in promoting general health and well-being among students. The amount of sessions was a huge issue and students are constantly complaining that there is not enough and there had been a steady reduction over the last few years.
In November, after student council mandated a walk-out protest unless the situation was resolved, we increased the number of General Practice clinics from seven to ten and maintained three contraceptive and STI clinics. We now must ensure that we continue to stand up and fight for increased student services and that is what I'm doing at the moment sitting on the tender committee for the new medical director. We need a stronger, more efficient Medical Centre.