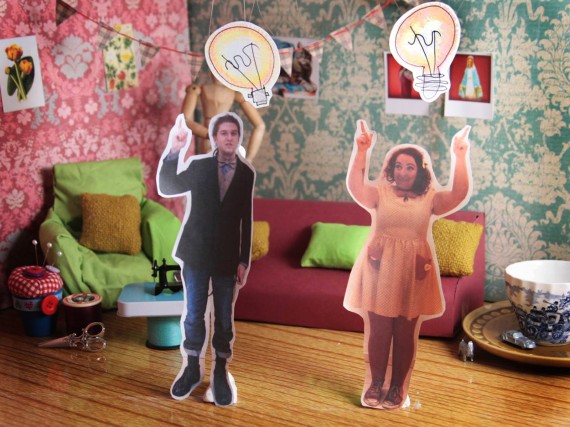 MARTINS Punculis and Ruth Crean have come up with the novel idea of opening up a cafe that doubles as a crafts and bookshop. You can sit in the Bohemian nook upstairs with your coffee for hours on end admiring the crafts and furniture made by Martins and the second hand books that you can buy courtesy of Ruth.
The two artsy friends have worked together on the Limerick craft and design project over the last two years. They both have managerial experience in the service industry and are determined to get their dream business going. The two describe themselves as nerdy, and it is these 'nerdy' things that they want under one roof. They want the café to be upbeat, fresh and comfortable. In my opinion, this is a must for Limerick city and with their combined skills and determination, a recipe for success. While there are many cafes and restaurants around the city that are nice for the odd cup of coffee, as well as the Starbucks in the Red Raisins area of the college, there is nowhere that is away from the hustle and bustle of everyday life; nowhere that you can sit down and read for as long as you like while the outside world passes you by. That is a very fanciful description of a café, but Ruth and Martins have made it clear that this will not be your run-of-the-mill café overlooked by busy shoppers.
The Stormy Teacup will be located in Foxes Bow, down a little alleyway that the pair said will be lovely with some, 'tables, chairs, and some fairy lights'. As I've mentioned before, there will be a bohemian nook upstairs. This will be furnished by Martins' own furniture that he makes and up-cycles himself. There will be comfy chairs and books and art to admire. Downstairs will be where the coffee will be purchased and will double as the craft shop. In the stop motion video on their website, the pair describe themselves as 'nerdy'. While this may be the case, (for the record there is nothing wrong with being nerdy, I would also put myself in that sub-category) I would describe them more as innovative and instinctual. As there hasn't been a café of this variety in the city for ten years since Java's closed its doors, this is the perfect time to open a like-minded business. Ruth and Martins both have experience in the Milk Market in Limerick city on the weekends and will be able to transfer this over to their new business. If it gets up and running, that is.
It would be a dream come true for the friends if this business endeavour could get up and running. However, they need a minimum of six thousand euro to get funding for the Stormy Teacup. They have raised some of this money of their own accord through loans and private investors, but must seek the help of the public with an interest in a café like this. They have set up a rewards system whereby members of the public can donate a certain amount of money and receive gifts such as a set of badges or six free cups of coffee. If anyone is generous enough to donate a thousand euro then the coffee machine that will be used in the shop will be named after that Good Samaritan. However, if the money is not raised then the café will not open and the void in the craft/bookshop/café market will grow even more. That may be a bit melodramatic but after reading about the possible opening of The Stormy Teacup I think it would be a shame if this didn't materialise.
As it stands, there is a little over two weeks left to donate to the cause. Every little helps, and if you want to have coffee in a peaceful environment you can donate on their indiegogo page here. You can also view their lovely stop motion video explaining their project below.
By Cian Dalton