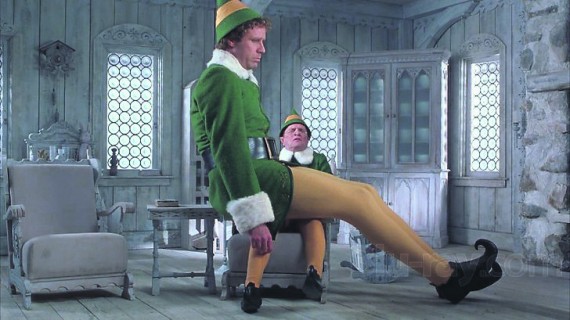 By Aisling O'Connor
We love Christmas here at An Focal and who can think of a better way to relax over the Christmas break than with some movies, fluffy socks and a nice warm mug of hot chocolate? We even complied the list for you!
Rudolf the Red-Nosed Reindeer: The Movie (1998) – This was my childhood, so naturally it had to go on the list. It's cheese-ily adorable and teaches good morals for kids seeing as all the other reindeer called him names, but Rudolf still saved Christmas with that bright red nose of his and wished for kindness in others. Cue the "aww"s.
The Santa Clause trilogy (1994, 2002, 2006) – Scott Calvin takes the role of Santa Clause after Santa has…a little accident. We later see the introduction of Mrs and Baby Clause in the series, and he ends up defending his role as St Nick against Jack Frost, and let's face it, Frost's seasonal take on "New York. New York" should be in the charts with Mariah Carey and Elsa come December.
Elf (2003) – While some may argue that Elf is over played this time of year, can we ever really get sick of it? After accidentally crawling into Santa's sack in an orphanage, Buddy the Elf is raised in the North Pole only to discover that he's not really an elf after all. He sets out to find his real family in the magical land of New York City and teaches valuable lessons to us all, like the best way to spread Christmas cheer is singing loud for all to hear.
Rise of the Guardians (2012) – Not to be confused with Guardians of the Galaxy as there are no talking raccoons here, but it does feature the Easter Bunny. Don't be alarmed, we're not promoting Easter already. Jack Frost is chosen to take his place among the Guardians to watch over the children of the world, initially hesitant but when faced with the threat of Pitch Black he joins the team and saves Christmas.
National Lampoons' Christmas Vacation (1989) – Holidays never go according to plan for the Griswolds, so it's no surprise that even staying at home for Christmas is a disaster. Clarke's "perfect Christmas" falls apart with family arguments and the multiple mishaps that seem to plague the family. It's hilarious, and comforting to know that you'll most likely never electrocute a cat in your Christmas tree, well we hope not anyway.
Home Alone (1990) – It is not Christmas until Home Alone starts popping up everywhere, and rightly so! As it turns out there are five of them, so if you're a fan then a marathon is a must for the holidays. Left alone by his family, 8-year-old Kevin is ecstatic, until a pair of thieves called "the Wet Bandits" try to break in. He ends up conquering them through his various childish antics and saves the house.
The Polar Express (2004) – On Christmas Eve a magical train called "The Polar Express" picks up the children who didn't send their letters to Santa and takes them to the North Pole to tell the big man what they want themselves, and maybe even receive "the first gift of Christmas". A young boy, bereft of Christmas spirit, takes the trip but the journey is far from smooth. He meets some interesting characters and receives the most valuable gift of all. For a Christmas movie, it's quite eerie and haunting, but lovable none the less.
A Christmas Carol – Charles Dickens' story of Scrooge is one of the most iconic Christmas tales out there, so naturally there are a ton of adaptions such the 2009 animation with Jim Carey, the Muppets (1992) version, and even Disney did it in 1983.  All Dogs Go to Heaven's, "All Dogs Christmas Carol" (1998) is a real tear jerker because anything remotely sad is catastrophic whenever animals are involved so perhaps not for criers. No matter which adaption you watch, it's a traditional must for the holidays.
The Nightmare before Christmas (1993) – It was on the Halloween list, and it is going on this one too! Jack the Pumpkin King decides that Halloween Town will take Christmas for their own, except with a population consisting of the dead, vampires, witches, and all kinds of ghouls, Christmas spirit is something they can't quite grasp, and naturally enough, Christmas doesn't go according to plan.
Harry Potter series (2001-2011) – They might not be Christmas movies but are always played around this time of year. As an avid Potterhead and proud Gryffindor I have no objections to this. If you're sick of non-stop Christmas cheer but not quite in a "bah-humbug" mood, they're a great alternative and feature magical Christmas scenes making us all wish we had our own initialed Weasley sweater.