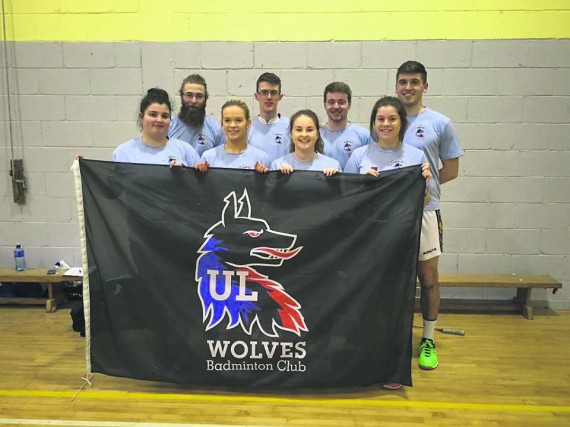 By Caroline Breen
Wednesday March 9 proved to be a very exciting day indeed for the grade H badminton team.  The team, made up of Adrian Kenneally, Tiarnan Healy, Sam Costello, Colman Coakley, Sarah Geoghegan, Caroline Breen (Captain), Jane Kirwan and Rachel McDonnell played outstandingly well to overcome Effin and claim the title.
The team had played Bruree and Effin both at home and away in this year's league. They won three out of four of the games, guaranteeing their place in the final and losing only once at home to Effin.
The final match commenced at Mungret Hall at 8pm. The first four games gave nothing away, resulting in a 2-2 tie. Effin took ladies singles and ladies doubles while UL won both mens singles and mens doubles. Luckily for the UL team however, the tie did not last long. Our team stepped out with a new found confidence and quickly took all three mixed games and in doing so became the Grade H Limerick County Mixed League Champions. The final score of the match was a comfortable 5-2.
The team will now go on to represent Limerick in the Munster's which will be held in the University of Limerick next month. We wish them the very best of luck in their attempts to reach All Irelands!