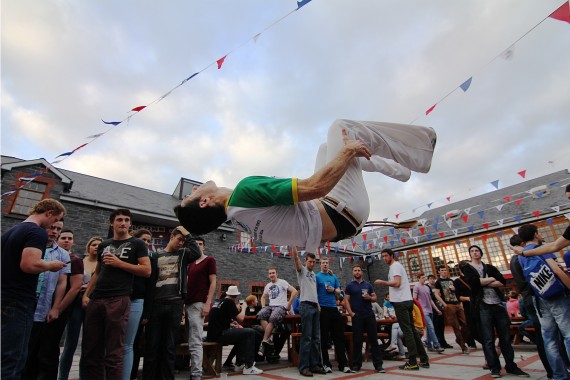 As a member of the UL Capoeira club interim committee, I would like to invite you to a public meeting next week at 6:30pm, Thursday March 27th. If you are interested in the development of the club or you would like to run for committee membership, then please attend! This is an opportunity to help create and steer a vibrant new club around a meaningful activity involving flared, white pants.
In case Google is down, Capoeira is a Brazilian martial art that incorporates elements of music, dance, and acrobatics. (Yes, music and dance. Hard-man types may have to look elsewhere. Mixed martial arts, maybe…. bare-knuckle boxing, a life of crime, etc.)But capoeira is open to everyone. Do not rule yourself out because you think you aren't fit enough or because of your age.
Capoeira appeared in the slave communities of colonial Brazil in the sixteenth century. It is an expression of freedom and defiance. It would (presumably) have offered a creative outlet for the individual and also served to foster cohesion in their fragmented communities. But it was also a form of rebellion against a prejudiced social hierarchy based on discrimination. So the self liberation and self-empowerment of the oppressed are in its DNA. It follows that diversity is honoured in capoeira. Every capoeirista (capoeira player), from the beginner to the elderly mestre (master), contributes something unique to the game; idiosyncratic movement, a certain strategic style, distinct personality, vocal timbre, etc.
But embracing diversity—as enlightened as that is and everything—begins to sound like embarrassing PC dross when it's fussed over like this. Capoeira seamlessly integrates everybody because—newsflash—everybody's essentially the same. Capoeira groups don't need manifestos to promote the ideal: it's demonstrated every time a roda (game) is held. Picture the video for 'Black or
White' and you get the idea, i.e. Native American and African tribes people dancing, Russians, gender equality, Macaulay Culkin. You'd be doing a great disservice to yourself by precluding yourself because you believe you're not the 'kind of person' who could play capoeira.
I urge anybody who isn't already physically active to try it out. Although it's one of the most vigorous and rigorous (both –igorous) forms of exercise, you'll be too focused on the game to really notice— agonising backs-of-the-legs stretch notwithstanding. Whatever bulls**t New Year's resolution you made, forget it! Do capoeira instead it's easier. I would also urge any gym rats who find that the 'burn', lately is accompanied by a profound sense of existential alienation to consider starting too. Capoeira is more socially engaging than other martial arts because more time is spent actually interacting with other players. The interaction is comparable to sparring with an opponent but the commonly-used metaphor likening the game to conversation is more fitting.
Surubim from Grupo Biriba Brasil is currently giving classes on campus which run from 5.30-6.30pm on Thursdays, upstairs in the Dromroe Student Village Centre. Everybody is welcome. (The cost of classes for students is €2.) If you are going, wear flexible track pants and bring water. If you're still a little apprehensive about starting classes and considering asking a friend to go with you, then save your breath. You might as well be asking them to elope with you to Ballinasloe. That's how cool it will sound to them. Just go yourself. Surubim is an excellent teacher. Your friend can join in their own time.
I've gone to great pains so far to avoid giving a personal account of what it's like to practice capoeira, what it means to me etc., and I know we'd all prefer to keep it that way. But if you have a plastic bag ready or you're reading this near a sink or a toilet, then I might as well say this: Capoeira has been one of the cornerstones of my physical and mental wellbeing for the last 6 years. My
experience of it has been defined by the light, love, and laughter of the teachers and fellow students with whom I have practiced. I am grateful for both them and for the art. Finally, I hope others can discover what it has to offer too. Muito obrigado, meus amigos.
Go to our Facebook page for more information.
By Pádhraig O'Donoghue