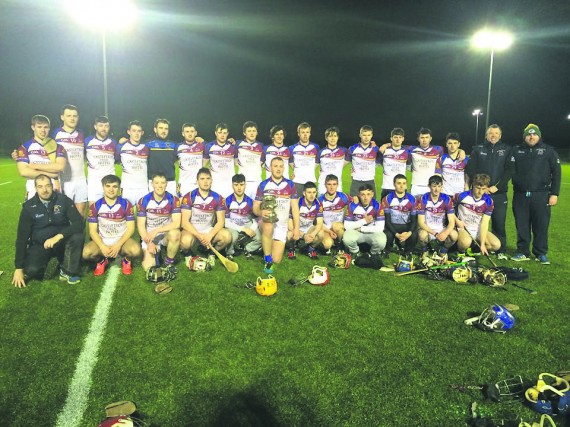 By Lauren Guilfoyle
Fitzgibbon Cup Final, CIT Sportsground
UL: 3-23 Mary I: 1-30
Mary Immaculate College claimed their first Fitzgibbon Cup final win in an absolutely stunning game that will imprint on the minds of each spectator lucky enough to witness it. After playing 60 minutes in tough conditions yesterday, the Limerick students endured another 90 minutes today before Mary I claimed the title in a 2point win. Spectators were treated to an initial 20-minute period of extra time and then a further 10 minutes in order to separate the sides, Limerick senior hurlers Darragh O'Donovan and Cian Lynch supplying the winners at the 89th minute.
It was UL that started the day the brightest, with Tom Morrissey bagging a goal after just 4 minutes, but Mary I's afternoon of reluctance to let UL power on kicked in straight away, replying with four points from Lynch, Linnane and 2 frees from Adare sharpshooter Declan Hannon. Mary I dominated most of the play in the first half, with UL struggling to contain Hannon along with the full forward line which was an ever present threat, John McGrath and Hannon adding 3 points each from dead balls to leave the sides level 1-3 to 6points with 26 minutes gone. The stability of Paul Maher between the sticks for UL was evident, tending to shots on goal with ease, and had Jason Forde on hand to hold up the ever threatening Hannon, escaping with just a yellow card and popping a point over the bar at the other end for good measure. Tom Morrissey entered the score sheet once again with a point in the 30th minute, but was quickly followed up by an equalising score from O'Donovan to leave the sides all level at half time. UL 1-6 MIC 0-9.
The second half resumed with the pace and intensity as witnessed in the first, and the hugely influential McGrath had his first green flag of the afternoon raised 2 minutes after the restart. Mary I's attacking efforts had them 6 white flags over the next 12 minutes despite the substituting of 2013 All Star Colm Galvin succumbing to injury, Cian Lynch getting the credit for two of those, with UL's only response from Kilmaley's Aidan McGuane. McGrath launched his second attack on the Mary I defence and came away 3 points the better for it once again, to leave UL trailing by just one point with 15 minutes remaining. Linnane and Meagher added 2 points to Mary I's total, but the collective efforts of McGrath and substitute Tommy Heffernan were enough to force extra time. The score at the end of normal time read UL 3-12 Mary I 1-18, with UL losing Jason Forde 5 minutes from time through injury.
The first period of extra time saw UL take a 2-point lead on two different occasions, with Conor Martin and Cathal McInerney opening their accounts, while Corry and Gallagher raised their input with white flags for Mary I at the other end. UL had a one-point advantage at the break UL 3-18 MIC 1-23. 3 quick points from Mary I's Reidy (2) and Cahill put them back in the driving seat, but just wasn't enough as Tommy Heffernan added his 4th and 5th point from play since coming on in the 68th minute, to leave UL needing one to equalise. John McGrath stepped up and duly obliged, adding his 7th of the game, forcing the sides into another period extra time.
Having played a game each the day before, the Limerick students were facing into their 140th minute of competitive action to decide where the Fitzgibbon Cup trophy would spend the Summer months. Despite Heffernans point in the 86th minute, his 6th point from play since his introduction in the 68th minute, Mary I rustled up three scores from All Ireland U21 winning stars O'Donovan and Lynch to put the nail in ULs coffin and send them back up Treatyside with no silverware in hand. Mary I claiming the title after a 90-minute-long battle with captain Richie English leading the acknowledgements, UL 3-22 MIC 1-30.
Not many would have been sour with the final result reading a draw with the potential of a replay in the Gaelic Grounds, such was the quality of entertainment on show, but Eamon Cregans' men showed the desire to push on and claim the title for the first ever time for the teacher training college, joining the role of honour. Declan Hannon had 1-12 to his name and was superb throughout, exuding dominance right from the throw in. UL had a huge leader through John McGrath, but it was Tommy Heffernan's quality of scores, 6 in total from play, that was the huge talking point of the 2 periods of extra time. Linnane, O'Donovan and Lynch impressed throughout for the eventual winners, whilst the impact of Paul Maher and Jason Forde, especially in normal time, cannot go un-noted.
The Fitzgibbon Cup will venture back to Limerick once again for the Summer months, but will have to get used to the city surroundings in a new home, a testament to the efforts of Cregan who has been involved with the Mary I side for a huge number of years.
Sigerson Cup Semi Final
UL: 1-09 UCD: 4-12
UUJ was the venue for the highly anticipated Sigerson Cup semi- final vs UCD on Friday last. UL had travelled up to Belfast in high spirits and there was a genuine belief that despite being rank outsiders for the match, the team could pull off a big shock and qualify for the final. UCD began the game strongly and were helped with the aid of a strong breeze. After 16 minutes, the highly-impressive Dublin outfit were 2-5 to no score ahead. Aidan Rowan of Longford got UL on the scoreboard which was sandwiched in between points by John Heslin and Paul Mannion for UCD. UL lost David Larkin to a black card shortly before half time and shortly after Niall Kelly buried past Colm O'Driscoll to well and truly finish this game as a contest. Half time score of UL 0-2, UCD 3-9.
UL, to their credit, came out at half time and put in a fantastic second half performance which started right in the full back line with Kerry pair Cathal Long and Eamonn Kiely (captain) leading by example with a number of excellent interceptions and tackles to dispossess the talented UCD forwards. Luke Boland added a lot to the side and Ruairi Deane began to dominate midfield as UL enjoyed their best period of possession. Bryan O'Shea scored four fine points in the second half, including a 45 and two from play and UCD struggled to match Brian Carson's men's attitude towards the second half. A second goal for Kelly after a mistake in the UL defence was cruel for the Limerick-based team who were much the better side in the second half scoring 1-7 in the process. Ian Bourke scored a fantastic individual goal on 54 minutes; however, it was too late for UL whose season came to a disappointing conclusion on a cold day in Belfast.
However, despite this result, UL can be extremely proud of their endeavours. A good league campaign coupled with an excellent buy-in by the entire panel meant that Semester 1 was extremely successful. A beneficial number of trainings and challenge matches during January 2016 prepared the team for a difficult Sigerson Cup game vs IT Tralee. After overcoming the Kerry-based team, the team then went on to beat Queens University Belfast by a single point, much to the excitement of a large UL crowd in attendance. A corner has been turned with regards to the outlook of outsiders on the standard of football in UL. Qualifying for the Sigerson Cup weekend was a key goal this year, but there is much more to come from this talented bunch of footballers reigning from West Cork to Cavan and Clare to Wexford.