By Orla McShane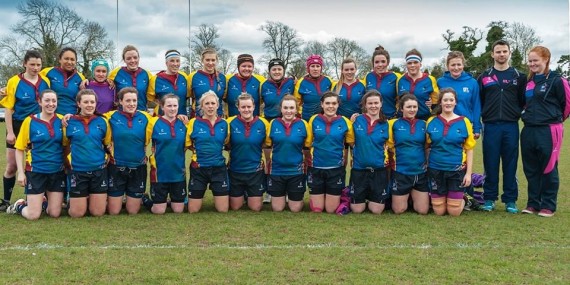 On March 25th UL ladies rugby boarded a bus bound for Maynooth with one goal in mind; winning the final and bringing the cup (now named Sheila) back to limerick, its rightful home. We were playing against IT Carlow, a team that we narrowly lost to at intervarsities two weeks previous to the final. We trained harder than ever during those two weeks and it showed massively on the day. Kickoff was at half 2 and with five minutes to go and the tension building we ran out onto that pitch with great intensity to let Carlow know we meant business.
The whistle blew and we were on the receiving end of the ball. The nerves showed for the first fifteen minutes or so as Carlow had us pinned in our own half, fighting to get a try but we held them off and slowly we began to settle into the game and play our style of rugby. Every girl from 1 to 15 knew what their job was and we began to use our game plays and make ground. We were holding them of in the scrums and our lineouts were going according to plan, we even managed to steal a few of Carlow's lineouts and crash the ball up the field. It was a fast game with massive intensity from both sides. Everyone was putting in huge hits the likes that had not been seen all season. UL were unfortunate to go down to 14 players early in the game but worked tirelessly to make up the number.
UL put massive pressure on the Carlow defence and were rewarded with two important penalties within kicking range and we made the most of these, with Mollie O'Donnell slotting them over to give us a 6-0 lead at half time. By half time we wanted to win this so much that no one was giving into the tiredness or pain they were feeling. We got water on board and remained level headed as our coach Peter encouraged us to keep going and play as we had been because it was working well. The lead at half time gave us a massive boost, we all knew we had it in us, we were playing better than Carlow and we had the drive in us as a team to get the points on the board and seal the win. Early in the second half Carlow made a break on the half way mark, UL held their defensive line and put in hit after hit for what felt like an eternity,  Carlow eventually made it to their try line but it was held up due to the quick action of Aoife Courtney.
From this UL worked their way down the field again. Both teams were tiring but we knew we had more in us to give and we used this to our advantage, we played some great rugby spreading the ball wide to tire the Carlow defence and crashing it up the middle when we got close to the line. Carlow did eventually get a try in but UL lifted the intensity and worked their way down the field and scored two trys, first one from Chloe pearse and the second by Deirbhile Nic A Bhaird. These trys came from a enormous team effort, we all worked hard to support each other and we played smart, between spotting gaps, giving long passes out to the wing and making sure we retained possession in the rucks it just seemed to be working perfectly for us.
With the score now 16-5 we were all beaming with pride, we just had one job left to do, hold onto the ball and don't let Carlow into our half. We managed to do this and with two minutes to go Carlow were kicking off, the ball was caught beautifully by UL and taken into contact. We then passed it wide holding onto possession. Carlow eventually gave away a penalty and we kicked for touch, UL won the ball in the lineout and held onto possession, two phases later it was knocked on and the sound of the final whistle blew. Our job was done, we had won the All Ireland Final.