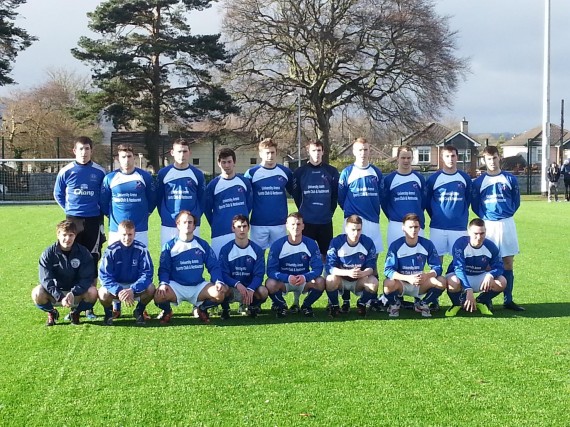 UL men's senior team travelled to the defending champions, IT Carlow, for their CUFL quarter-final clash. IT Carlow proved too strong for UL and came away 5-1 winners.
IT Carlow looked the better team in the opening few minutes and opened the scoring with a goal from a corner on the 23 minute mark. UL regrouped and responded well with a wonder strike from playmaker Eoin Walsh. In the 28th minute, Walsh received the ball 35 yards out from goal and having spotted the Carlow keeper off his line, unleashed a wicked strike which the IT Carlow keeper was unable to deal with. UL's hard work was undone five minutes later when Carlow scored again, this time from a well worked free-kick.
Having gone 2-1 down, the UL fightback was seriously hampered when they lost two key players to injury either side of half time. Walsh was involved in a heavy impact challenge and was forced to go off just before half time with a knee injury. Just after the restart, centre-midfielder Eoghan Burke suffered a similar injury and also was forced off.
UL conceded a third goal with Carlow centre-midfielder Barry O'Mahony completing his hat-trick. At 3-1 down, UL threw the kitchen sink but unfortunately it was Carlow who went on to score again. The final whistle blew and UL's unbeaten record this season ended as the match finished 5-1.
The men's senior team preparations will now turn to the Collingwood Cup which takes place in Belfast from 25th February.
In other soccer club news, the UL women's team travelled to Sligo to compete in the intervarsity competition. UL were drawn in a group with Athlone IT and NUIG. The ladies made easy work of their group with a 7-1 win against AIT and a 2-0 win against NUIG. Jenny Brennan put four past Athlone with Laura Carroll, Vicky McMahon and Karen Duggan also getting on the scoresheet. Brennan was on the scoresheet again with a converted penalty against NUIG. Ireland international Julie-Ann Russell scored the other goal.
UL faced UCC in the semi-final. Despite dominating the game, it was UCC who struck first with a first half penalty. UL couldn't break the Cork side down and the final score finished 2-0. UCC went on to win the tournament after beating IT Sligo on penalties in the final.
The UL Freshers team travelled to Coleraine to take part in the Harding Cup. Having lost some key players to injury in the build-up to the tournament and also getting one of the hardest draws imaginable, luck didn't appear to be on UL's side. UL didn't have much luck in their quarter-final encounter either as they lost 5-1 to eventual winners, UCD. Adam Collins from the penalty spot was UL's only scorer. UCD went on to defeat Trinity College 3-0 to capture another Harding Cup.
Jamie Flynn