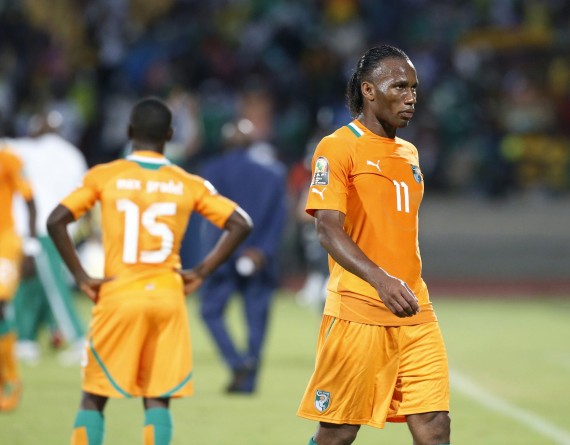 So it is Nigeria who emerges victorious from this year's African Cup of Nations. This is the third time that the continent's most populous country has won the tournament. It could be argued that it is the first time in eleven years that one of Africa's big footballing nations has triumphed.
Since 2004 the winners have been Tunisia, Egypt, and Zambia, hardly world-beaters. A notable absentee from this list of previous winners is the Ivory Coast. Once again the 'Elephants' will not be getting their hands on African football's biggest prize. Perhaps they were unfortunate in having to face the eventual winners as early as the quarter-finals, but this year's edition was the fourth tournament to be held since 2006 and they have entered each tournament since then as heavy favourites. Despite having a pool of talent that most European nations would be envious of, the Ivoirians have failed on each occasion to win their country's first title in 21 years.
If any player deserves an African Nations medal more than anyone it's Didier Drogba. After ending his Chelsea career on the highest note imaginable last May, surely it seemed the big man would end his African Nations career with a winner's medal too? At 34 it's fair to say that his best chances are sadly now behind him.
You could forgive their failure to win in 2006. They were playing the hosts Egypt in the final but they had a golden opportunity to win without having to go through the heartbreak of losing on penalties. Ten minutes from time Drogba missed a sitter from six yards out and was one of two Ivoirians to have their penalties saved in the shoot-out. Egypt went on to win what would be the first of three consecutive African titles. Since that defeat in the 2006 final they have been favourites for each subsequent tournament.
In 2008 they were beaten by Egypt once again, getting thumped 4-1 in the semi-finals. Two years later they were merely a minute away from the semi-finals before Algeria scored a last minute equaliser to bring the game into extra time, where they prevailed 3-2. Last year saw yet another agonising defeat in the final. The game was to finish goalless but Drogba, once again, had a chance to break the deadlock twenty minutes from time when the Ivory Coast were awarded a penalty. Alas, his big-game reputation deserted him and he skied the ball over the bar. Buoyed by an overwhelming sense of destiny, Zambia went on to beat the Ivoirians 8-7 in the shoot-out.
As such their "golden generation" which includes such prodigious talent as Didier Drogba, Salomon Kalou, Yaya and Kolo Touré, Emmanuel Eboué and Didier Zokora will more than likely finish their international careers without a medal. Their Ghanaian counterparts may not have won the African Nations either but their run to the quarter-finals of the 2010 World Cup will be their lasting legacy. It seems once more the tag of "golden generation" has come back to haunt yet another team. Morocco 2015 may only be two years away but for many of this Ivorian generation 2015 is more than likely one tournament too far.
Eoghan Wallace