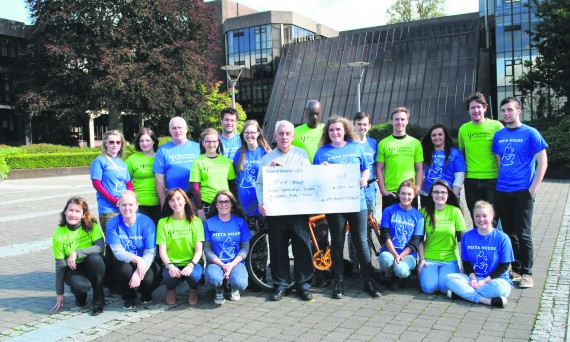 By Ilyana Keohane
As part of the Psychology and Social issues module, Psychology students were encouraged last semester to raise money for a charity of their choice. The unanimous class decision was in favour of Pieta House, an incredibly worthy charity dedicated to the prevention of suicide and self-harm. All fundraising activities were organised by the students, with authorisation from Pieta House for each event.
The students organised several charity bake sales, raffles, bucket collections, and event nights with help from The Stables Club and service providers in the University of Limerick. Each of the four bake sales made over €500 thanks to the generosity of staff and students on campus.
'Tinder Tables', a student-led speed dating night held in The Stables Club was also a huge success. Several students and staff members also took part in the 'Jacinta O'Brien 10k' and engaged in the weekly training activities preceding the marathon. Over 80 students were in attendance, raising money and awareness for Pieta House.
Pieta House representative Johnny Togher came to UL in September for the cheque presentation, and took pictures with the module leaders and students. An astounding total of €4,300 was raised by the class group for Pieta House, surpassing the previous two years' records.
The UL Psychology Society is hoping to continue fundraising for Pieta, and will be selling raffle tickets for a signed and framed Munster Rugby Jersey. All proceeds will go directly to Pieta House. Tickets will be on sale from now until November 20th, at €5 each, and available from any committee member of the Psychology Society. We will also be selling them on Wednesdays at 6pm in E1-022 (in the Psychology corridor). Any support from students and staff is greatly appreciated!