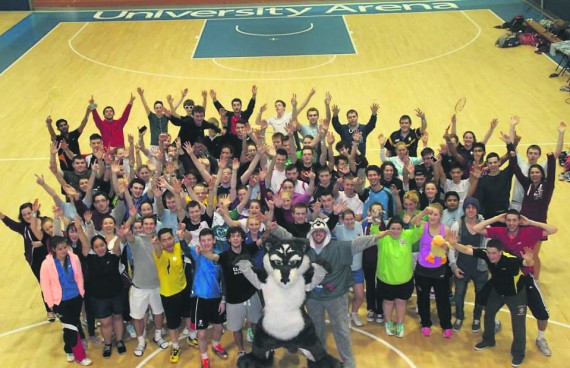 By Brian Crowley
The University of Limerick Badminton Club has started the new academic year on a high. With in excess of 200 members, UL Badminton Club is one of the most active clubs on campus. Interest has been exceptionally strong from fresher's and international students, who poured through the doors in their dozens each evening to have a laugh, make new friends and most importantly play some badminton.
Training times are Mondays and Wednesdays from 9.15pm to 11pm with new members welcome to join anytime. The recent club competition amongst the newbies was a huge success with great turnout over the course of the tournament. In the next couple of weeks, members will have also the opportunity to try out for teams which will compete in the Limerick League.
Undoubtedly the highlight of UL Badminton Club's action packed year is the International Student Badminton Tournament hosted each year by the club. The ISBT attracts well in excess of 100 students from third level colleges all over Ireland, the U.K. and Europe.
This year's event will take place over the October Bank Holiday weekend. Regardless whether you want to take the event seriously or attempt to play sleep-deprived and hungover, plenty of banter is guaranteed throughout the day and into the late hours of the night. For the extra crazy members, the opportunity is also available to travel to the Netherlands over the New Year to partake in their ISBT hosted in Enschede.
Anyone interested joining the club is advised to request membership on the UL Wolves site and turn up to training on Monday or Wednesdays from 9.15pm. Membership for undergraduate students is just €10 for the year with equipment provided on the night if you don't have your own. Like their Facebook page (UL Badminton Club) to keep up to date with what is happening in the club and email ulbadmintonclub@gmail.com if you have any queries. It's never too late to join so head on down to the Sports Arena and join in on the fun!