UL staff and students collected thousands of toiletries for those living in direct provision last week.
A number of buildings around UL acted as drop-off points for the toiletries drive including UL Students Life centre, University Concert Hall, Irish World Academy and the Glucksman Library.
Staff in the main building, the languages building, the health sciences building, the millstream building, the Schrodinger building and the PESS building also accepted donations of toiletries for the drive.
The initiative was led by the Lime Tree Theatres' Gillian Fenton.
Jess Beeley, Niamh Dillon and  Jennifer Schweppe of the Arts, Humanities and Social Sciences Faculty have been the leaders of the initiative at UL.
In a statement to An Focal they said; "We are overwhelmed by the generosity of the UL community for our recent call for donations of toiletries for those in Direct Provision.
"Thank you to everyone who offered collection points, and to everyone who donated.

"We'll send out another request for donations early in Spring semester, along with a list of collection points available across the University.

"If everyone could donate one or two items we would have enough to cover the four direct provision centres in Limerick and Clare."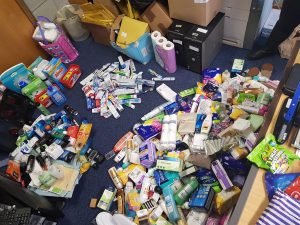 Companies contracted to run direct provision centres in the state must provide toiletries such as soap, shampoo, toothpaste and toilet paper, but there is no contractual obligation to provide other toiletry items such as menstrual hygiene products, body lotions, skin care products etc.
The cost of such items is to be covered by the direct provision allowance, currently €21.60 per resident per week.
This allowance will be increased to €38.80 for each adult and €29.80 for each child in March 2019.
UL Student Life Welfare Officer Lorcan O'Donnell said it was "disappointing" and "cruel" some of the most disadvantaged in society would be left paying for "basic hygiene products."
Students and staff can continue to drop in supplies to any of the drop-in locations, with the next drive planned for early next semester.