by Chloe O'Keeffe.
Three arrests, and approximately 30 fines have been made to date following an outbreak of a road party in College Court, Castletroy last evening.
Two men (20s) were arrested under the Public Order Legislation and one man (20s) was arrested under Misuse of Drugs Legislation ,
Approximately 50 Fixed Payment Notices for Breaches of the Health Act have also been made.
"Students found to have broken the UL Code of Conduct will face the full rigour of our disciplinary process including temporary suspension and possible expulsion," President of the University of Limerick, Professor Kirsten Mey said in a statement.
This follows a gathering which began at approximately 2.30pm yesterday, Tuesday March 2; and escalated into a mass gathering leading into the evening.
Gardaí in Henry Street Garda Station were called to the gathering at 6.56pm by a local resident, and arrived by 7.30pm, the resident told An Focal.
Gardáí have begun an investigation into identifying the organisers of this event, and as with all Public Health Regulation breaches a file will be prepared for the DPP (Director of Public Prosecutions).
This "road party" comes only days after an email from the President stating that the University of Limerick would be paying for an additional 310 garda patrol hours to be put in place across estates in Castletroy.
Footage on social media, predominantly Snapchat showed a large group of people gathered, and another video showed fireworks being set off in the estate.
"We are fully supportive of An Garda Síochána and remain grateful for a close co-operative partnership with them," stated Professor Mey.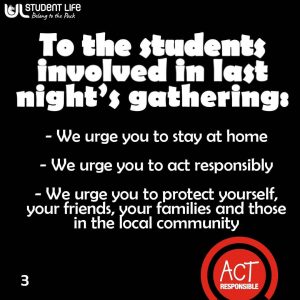 In a statement UL Student Life have condemned the actions of those in attendance to the street party in College Court, and urged students who attended the gathering to stay at home.
"Being a student or deemed unsusceptible to COVID-19 does not entitle you to break government restrictions.
"We may live and spend time with other students, BUT we share this community with individuals who come from many walks of life," the statement read.
A local resident said that they understood the cabin fever, and wanting to go out, "But we all have the same feelings.
"Some of them [could be] living with vulnerable people and just come for this party, it's not good to socialise like that."
"They need to respect their neighours, there are old and professional people living in this area," stated the local resident.
Gardaí in Limerick will continue to provide high visibility patrols in the vicinity of the University campus and surrounding residential areas to check compliance to Covid-19 regulations, and keep the community safe.