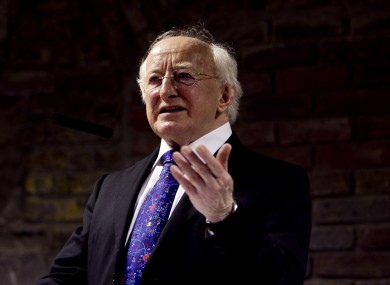 PRESIDENT of Ireland, Michael D. Higgins, has this month announced a seminar series to take place across the country throughout the year entitled 'Ethics in Public Places, Public Spaces and Public Discourses'. University of Limerick will have the pleasure of hosting four of these seminars over the next ten months.
This announcement marks the completion of one of President Higgins' goals outlined in his inauguration speech. "During my Presidency, I also intend to hold a number of Presidency Seminars which may reflect and explore themes important to our shared life yet separate and wider than legislative demand, themes such as the restoration of trust in our institutions, the ethical connection between our economy and society, the future of a Europe built on peace, social solidarity and sustainability."
U.L.'s four seminar series will individually be aimed at different factions within Irish society i.e., local community, university students, second level students and members of the business community. According to the website of the office of the president the seminars will be titled; 1.Being an Ethical Hero, 2.Ethics in Public Spaces, 3. Speech, Friendships and Language, 4.Professional Ethics.
Aimed at the local community, the first set of seminars will explore the ethics of political, sporting and music heroes and will include the joint UL/UCC community seminar on 'Finding Positives in Negative Times'. The second set of seminars will be aimed at the university student population and will examine ethical advertising, political lobbying and political advertising, the ethics of politics and the question of ethical housing and architecture.
The third seminar will bring local post-primary students on to campus to explore issues such as everyday hate speech, ethical friendships, ethics and social media and contemporary online life.
Finally, the last series of seminars will address the local professional community. Entitled 'Professional Ethics', it will explore ethical issues in the courtroom, in academia, in journalism, in healthcare, in pedagogy and in finance.
By Mark Nother