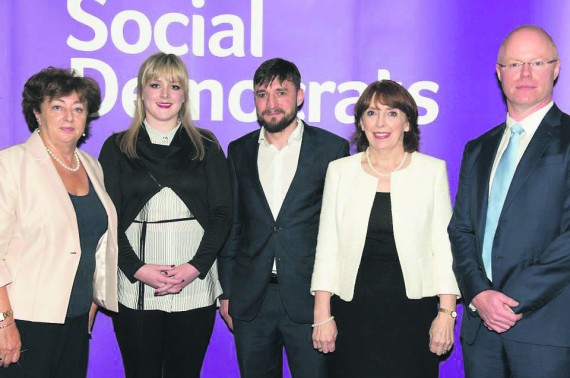 By Tomás Heneghan
The University of Limerick's (UL) will play host to two TDs from Ireland's newest political party, the Social Democrats, this week.
The event, which is being organised by UL Social Democrats society, will host a meeting with TDs Catherine Murphy and Róisín Shortall, entitled 'Meet the Social Democrats' on Thursday, January 28th, at the Graduate Entry Medical School on UL's North Campus.
The event is also being organised in conjunction with the party's General Election candidate for Limerick City, and former UL student, Sarah Jane Hennelly.
The meeting is open to members of the public to attend to discuss issues and debate with the two Social Democrat TDs, alongside Ms. Hennelly.
Commenting on the event, Ms. Hennelly said: "At this stage of the campaign, people want to know more about us. I've found the level of interest and awareness on the doors incredibly exciting and although the track-record of the three founders is well-known, it's important to me and to them that they meet as many people from the constituency as possible.
"This will be a great chance for any voter to hear about the most credible and exciting alternative in Irish politics today."
The former Independent TD, Ms. Murphy said of the event: "I am delighted to join our Limerick City candidate Sarah Jane in her home city to meet local people and hear the issues affecting them.
"When we established the Social Democrats we did so with a commitment to involve people in the process so as to be truly representative of people. The only way to do that is by getting out and speaking to different people across the country."
She explained: "I have a keen interest in genealogy and because of the fact that two of my great grandparents hail from Limerick City, I spend a lot of time in the County on family tree research. I have always received a warm welcome in Limerick, and people regularly stop me on the street to speak about my experiences with Siteserv and related issues. I look forward to joining Sarah Jane to have those conversations with people on a wider scale."
Ms. Hennelly added: "I personally am incredibly proud to be able to bring these two women to the city and for people to meet them. As two independent TDs, both Catherine and Róisín made huge waves in tackling corruption and calling out mismanagement of public money.
"Now, together in a group of like-minded people with a strong vision and well-though out ideas, I believe we will change the course of Irish politics into the future. I firmly believe we are offering the type of politics that Limerick city needs, wants and deserves. I imagine it's going to be an invigorating evening and all are welcome."