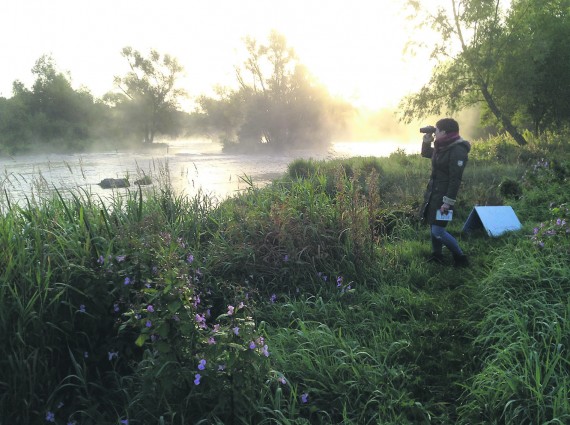 By Yvonne Ryan, Susan Byrne & Liz Gabbett
On Thursday, 24th and Friday, 25th September UL held its first BioBlitz as part of the National Intervarsity BioBlitz. We came a credible second to NUIG. We are delighted with this result. We did a lot better than we initially anticipated. A grand total of 427 wildlife species were recorded over the 24-hour period.
We could not have done so well without the expertise of UL staff members: John Breen; Tom Harrington; Aisling Walsh; Gordon Young and local volunteers: Alaine Ni Laoi; Geoff Hunt; NPWS Rangers; David Lyons; and Elaine Keegan. Tom Harrington's and Aisling Walsh's contribution in identifying plants, fungi, lichens and mosses made-up over half of the final 427 wildlife species identified on campus.
UL tutor, Jason Power incorporated recording tree species on campus into the laboratory tutorial for Bachelor of Technology (Education) in Materials and Architectural Technology & Bachelor of Technology (Education) in Materials and Engineering Technology. The students recorded their observations by tweeting pictures, names and inserting #ulbioblitz. Members of staff and students also got involved by tweeting their observations with #ulbioblitz2015. Thank you all for lending your time and skill to this project.
We would also like to give special thanks to Buildings and Estates staff for providing logistic and moral support and PCC for providing headquarters in Dromroe Village Hall.
The Intervarsity Competition is run by An Taisce's Green Campus Committee and the National Biodiversity Data Centre. Without them, their coordination, the training they provide and the support they provide in the run-up and during the 24hr online upload none of this would happen.
Everyone's contribution made this project a huge success.
So, until next year, when we hope to do even better and get more people involved. If anyone is inspired to be more involved please email ulbioblitz@ul.ie and we will let you when the 2016 plan kicks off.