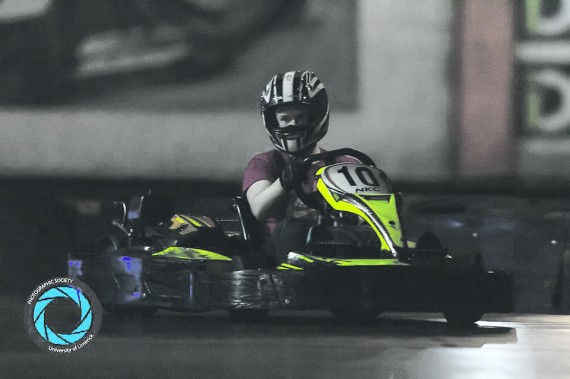 By Paul Jordan
Since our last update, the green light is well and truly aglow as we get our karting championships underway. We have had two great nights so far in the National Kart Centre with some highly competitive racing and the two championships are as tight as a Kerry rally stage.
And thanks to Photo Soc we have some great pictures of our members karting. But we've got so much more to look forward to. Towards the end of the month, we'll be heading to Nutt's Corner circuit up in Belfast for a society trip and will be having a good session there. Racing session of course.
After that we'll be preparing our drivers to head to the first two rounds of intervarsities in Nutt's Corner and Pallas in Galway. We're looking at bringing two teams to IV's for the first time in the society's history. This will hopefully mean that we can improve on our previous years at IV's, which haven't been too bad either.
We held our EGM in Week 4 and it was a great success. It allowed all our members to give some really good ideas for the year ahead such as trip proposals and events that they would like to do. We elected new first years to our 'Shadow Rep' positions, which help them to learn the different roles on the committee and has been a great success since we introduced it last year.
To help celebrate SoUL Arts Fest, we'll be holding an event to help celebrate the Societies of UL, but we're keeping that secret for this paper. All the details will be advertised in the coming days on our Facebook page and through member emails as well.
We are so thankful for the support our members give us and we hope to see this continuing throughout the year. For anyone who has any queries or ideas, feel free to drop us an email at ulracingfs@gmail.com or like us on Facebook: UL Racing & Motorsport Society.