The Old Firestation Restaurant
35 Thomas Street
A vegetarian & vegan restaurant located on 35 Thomas Street. The IrelandBeforeYouDie blog rated them the #1 vegan eaterie outside of Dublin. They do breakfast, lunch and sweet treats.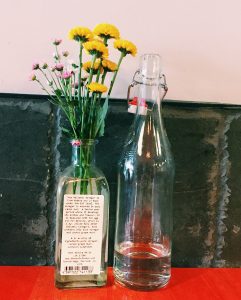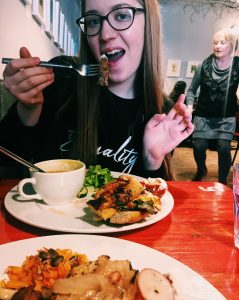 Nicole / Warm Haloumi Sandwich (€10) & Rum and Coconut Cake (€3.90)
Went vegetarian four years ago for environmental reasons, partial to trying the vegan option
The haloumi sandwich was served on the Old Firestation's own focaccia bread with tapenade and sundried tomatoes (which were in place of mushrooms as per my request as a mushroom-hater. Sorry fungi). It also came with salad, a cup of soup and wedges which I got some ketchup and garlic mayo for. For a tenner, it was a big meal, with a good mix of the healthy stuff (the green leafy stuff) and my much-loved carbs (the wedges). The wedges were cooked to perfection and just the right level of spicy with the homemade garlic dip making it that much better (definitely ask for some!).
They were offering a main & a dessert for €13, so even though I was stuffed, couldn't say no to some cake. I got the rum and coconut cake which was served with mango pureé. For me, the sponge was too dense and very buttery, more like an American yellowcake than a light and fluffy sponge cake (Aimee had a taste and said she liked the denseness of it though). The creamy/frosting type layer between the sponge was absolutely lovely.
Aimee / Quinoa and Cannellini Burger (€10) & Strawberry Mousse Cake (€3.90)
Went vegetarian nine months ago for health reasons, currently seeking healthier veggie options
The amount of food on my plate for €10 was monstrous, in the best way possible. My burger was served on a bed of wedges, and was accompanied by what seemed like homemade hummus, salad, a ginger and onion marmalade, along with some shaved carrot and pomegranate seeds as a garnish. Everything was delicious, and the burger patty fell apart with just a poke of my fork. The dish was also served with crackers, presumably to scoop up the number of soft ingredients and offer textural variety (a good idea, if you ask me). I would definitely order this again!
My mousse cake was very very sweet, but still a great treat. Though the consistency was very soft, I was impressed the mousse kept its shape, considering it was vegan. The fresh strawberries offered relief from the sweet body of the cake, and the biscuit base was super moreish.
Final Thoughts
The service was really good, very friendly and lots of smiles. The restaurant is a nice, open and airy space with cute little flowers and frames adorning the walls, and Nicole particularly liked the sign in the toilet which stated they use "certified environmentally preferred washroom products". Overall, we thought €13 for a big lunch and a dessert was very reasonable and we'll definitely being going back.