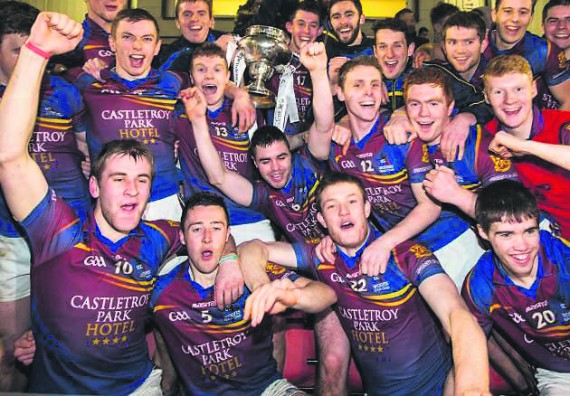 It's with great excitement and pleasure that the UL GAA Club welcomes all new students to the University of Limerick and more specifically, to the University of Limerick GAA Club.
UL GAA is one of the largest and most successful clubs in the university with 16 teams participating in Hurling, Football, Camogie and Ladies Football.
UL GAA Club is coming off the back of a successful season across all four codes.
The club won two of the four Senior Intervarsity titles; The Fitzgibbon Cup (Hurling) and retained the O'Connor Cup (Ladies Football) while our Fresher Hurlers annexed the Fresher 1 Hurling Championship for the first time.
UL is lucky to have a number of inter-county stars participating across all four codes and we also pride ourselves on having some of the best coaching and management teams in place to better aid our players perform to their best.
As a member of the GAA Club on campus, you will have the opportunity to avail of the extensive on-campus facilities to develop your game and reach your potential both on and off the pitch.
The personal benefits of joining UL GAA Club are immeasurable as you will form lifelong friendships and camaraderie with people of similar sporting interests and passions.
Who can join?
We support all levels of participation with a common aim of developing and improving performance.
All codes have teams competing at Fresher, Intermediate and Senior grades, so there is a grade to suit everyone.
For the elite player, those wishing to make their mark on prestigious and high profile competitions such as Fitzgibbon, Sigerson, Ashbourne and O' Connor Cups, then UL GAA Club will provide you with that opportunity.
Matches will begin in early October, so be sure to sign up soon to be involved from the start. Our Facebook page will keep all members updated on all of the clubs activities and matches so be sure to give us a Like and come out and support all our players.
So how do I get involved?
You can become a member of the club by registering your details at www.ulwolves.com and joining UL GAA Club. Alternatively, all interested students could call into the GAA Office under the Sports Bar at any time.
To fully activate your membership, you must pay your membership fee which covers your GAA Insurance Fee for the year and this must be paid prior to training or competing for the college:
€20 for 2nd years up.
€10 for Freshers for trials membership
€30 for Freshers for full membership which includes UL socks and shorts
UL GAA is also looking for budding journalists and photographers to help the club enhance its social media presence, an initiative that proved very successful last year. Anyone interested can contact us through our Facebook page.
More details will be made available on the clubs website www.ulgaa.com, our Facebook page www.facebook.com/ulgaa and our Twitter account @ul_gaa. Weekly updates will be available on our blog https://ulgaaclub.wordpress.com/.