It's that time. Christmas has come and gone and the students of the University of Limerick look set to return to college. The thought of leaving the comforts of your parents' warm and cozy house for your drafty room in college court may seem like madness, but the guys at the Students Union have a plan to make it all worthwhile.
Sunday
Refreshers week kicks off kicks off this Sunday the 21st of January at 8 pm, with the first "County Colours" of the year in The Stables Club. Tickets are only €5 from the SU, a bargain for what is always a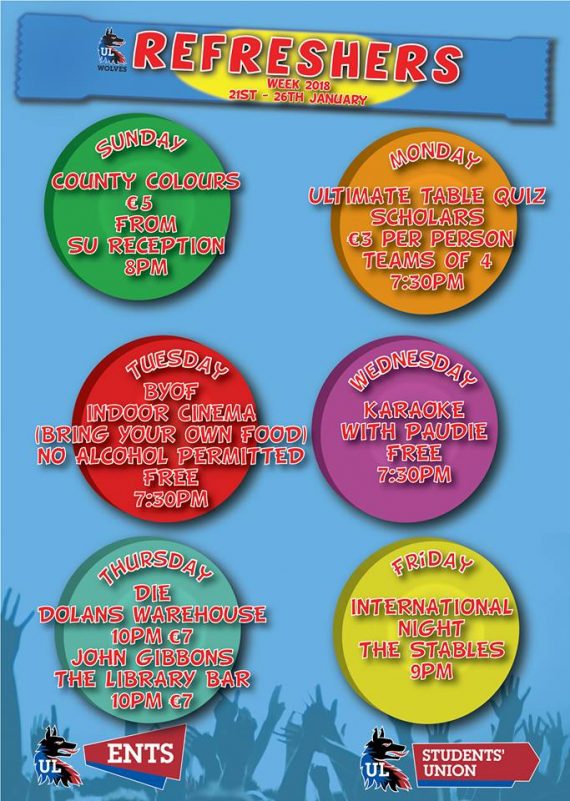 fantastic night. 
Monday
Monday offers something for everyone with Scholars hosting "The Ultimate Table Quiz." The quiz kicks off at 7:30 pm so get there early to avoid disappointment. Entry cost is €3 per person with four people per team. So get down and show everyone that the random trivial information you've kept with you since you were twelve isn't as useless as they say it is.
Tuesday
Tuesday night we will see some alcohol-free fun (it can be done, I promise) with an indoor cinema being held in the SU common room. The event is free but it is bring your own food (BYOF), so grab the popcorn and head on down. The event will be alcohol-free, so please, leave the cans at home.
Wednesday
Wednesday (we're halfway there) has karaoke with Paudie in the Stables. It kicks off at 7:30 pm and is free to take part so get on down there and sing your heart out.
Thursday
Thursday looks to be a big one. It brings the first DIE of 2018 and it's going to be a good one. Cailin, Maedbh O'Connor, and Ali Day Lee all play the warehouse. Upstairs and the terrace are hosting the Basement Project Takeover as well as Ian Hart & Ootep. Tickets are €7 from the Students Union and €10 on the door. The night kicks off at 10 pm so get there early to avoid disappointment.
Elsewhere John Gibbons plays at the library. With big hits like "P.Y.T" and "Sunglasses In The Rain" it promises to be a blast. Tickets are only €7 from the Students Union so pop in and grab them before they're gone.
Friday
Friday finishes up the week with another good night at the stables with the first "International Night" of the year. The night kicks off at 9 pm and is free entry, so you have no reason not to call down.