Thinking of running for Students' Union President, Welfare or Academic Officer this semester?
This year the UL Students' Union sabbatical officer elections take place Thursday 8th March, Week 7. If you are thinking of running I will be hosting a workshop on Monday week 4, 6 pm to explain what is involved (venue will be confirmed later).
Also, you should talk to current student representative officers: Jack, Roberta, and Conor, about what it is like and talk to me, Liz Gabbett. My office is downstairs in the Union.
All current students of UL are members of the Union. All members are therefore eligible to run for election and vote.
There are rules and regulations you must follow to get your name on the ballot page, e.g. fill out your form completely and get it on time! But it is not rocket science.
Now, before you start writing your manifesto, which must be submitted with your completed nomination form by 12 midday,  Thursday 1st March, you need to know what is involved.
I have created a series of FAQs on the ULSU website – https://ulsu.ie/representation/governance#elections where you can take time to read in depth what you need to prepare yourself for.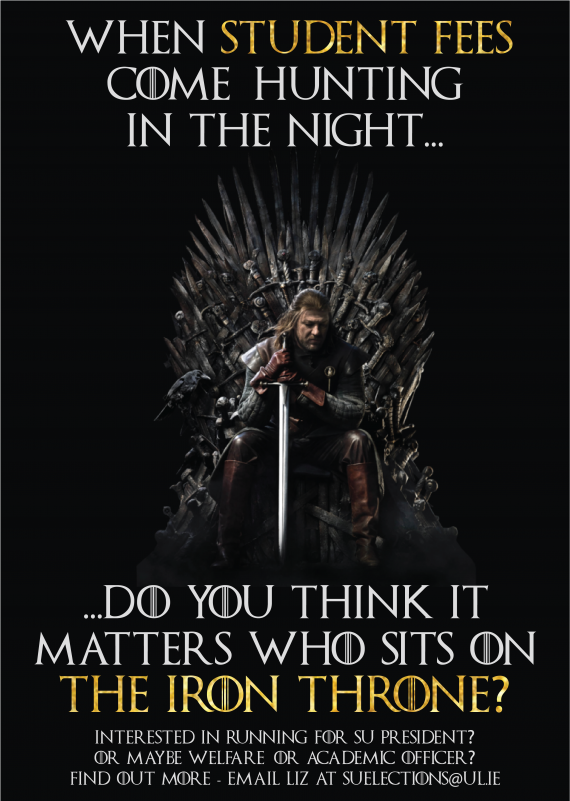 Nearly all of ULSU past sabbatical officers say they had an amazing experience in office.
It is great fun but the officers work extremely hard for the students they represent at all the University meetings and beyond. And there are a lot of meetings.
The SU President sits on 50+ committees and all those committees have regular meetings the President must attend day-in day-out over the 12 months.
The Welfare and Academic officers have fewer meetings but they will have a lot more daily drop-ins with students, helping sort out all the different issues students face.
The Union has full-time staff to help sabbatical officers do their jobs but ultimately the buck stops with the student officers.
When a candidate writes their manifesto generally they want to change the UL world, the reality is change happens a lot slower than you or any of us would like.
That doesn't mean you don't aim high or give up easily. If something is worth fighting for, fight for it. Quite often you will find support from Union and University staff who genuinely care for students and will advise how you might approach an issue and make better progress.
When you have student feedback, through Student Council or Classmates who have backed up your request for a change in writing, it is impossible for the powers-that-be to ignore those demands.
One of the big changes in recent years for anyone who runs for election in the University or national politics is the impact of social media and the fact that everyone has a camera on their smartphone.
Sabbatical officers are students like everyone else who sometimes make mistakes. Just remember the minute you get elected you are held to a higher expectation and there will be those few who will want to take you down.
You have to be prepared for this and you will need very good friends and family who will be there for you when the going gets tough.
UL students are amazing in every sense of the word. It is an honor and privilege to represent you.  Nearly every previous sabbat I have worked with and spoken to had a fantastic time in office and they all learned so much.
Every one of them was nervous starting out but there are training and support provided. Once they got through the craziness of Orientation and the full-on calendar of September they knew they were going to be okay and took each day as it came.
ULSU Student Sabbatical officers are not on their own, there is a team of people employed to support them and support from the student members of SU Executive, Student Council, Clubs and Socs and Class reps make anything possible.
Key election dates and times:
Nomination Period Opens – Thurs 22nd Feb, 12 mid-day, Wk 5
Close of Nominations – Thurs 1st Mar, 12 mid-day, Wk 6
Training with Candidates & Managers – Thurs evening 6- 8 pm, Week 6
Candidates declared Fri 2nd March, 12 mid-day. Campaigning begins
Hustings, Tues 6th March, 6 pm, Wk 7
Online Election – 8th March, 7 am – 8 pm, Wk 7
Liz Gabbett, ULSU Democracy Development Manager, suelections@ul.ie