It has now been a week since Conor McGregor's long-awaited return to the Ultimate Fighting Championship (UFC) Lightweight division went awry.
Dustin Poirier cleverly dispatched of McGregor in the second round of their rematch after consistent kicks to the lower right leg proved to be the Irishman's kryptonite.
It was the Dubliner's first loss by Technical Knock-Out (TKO) in his career.
The Conor who shot up the featherweight ranks and became the first double-champion in the organisation's history would not have let himself become so susceptible to these kicks and would have adjusted to protect himself, beating Dustin on his way to his first UFC title.
However, this is not the Conor of old and today An Focal takes a quick look into what has changed for the mercurial superstar.
Conor McGregor reached double-champ status via a striking clinic against then-lightweight champion Eddie Alvarez on November 12, 2016.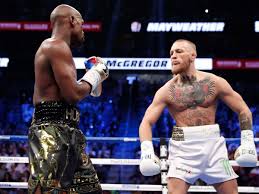 It was a magnificent performance, Conor McGregor's masterpiece, and it brought him to the peak of his stardom.
It seemed that he was set to craft a legacy of confident title defences á la Anderson Silva, but it was not to be – Conor had another idea.
Floyd Mayweather agreed to fight McGregor in a professional boxing match with the date set for August 26, 2017.
The fight, which culminated in a tenth-round TKO win for the unbeaten Mayweather, secured the bag for both fighters, netting them upwards of $100 million.
The event was a success for Conor, regardless of the loss. He managed to go ten rounds with one of the best boxers of all time, lasting longer than 28 of 'Money' Mayweather's previous opponents, all while getting richer with every hit.
However, it has proved detrimental to Conor's MMA style in the long run and has seen him lose two of his last three fights, only winning against Donald Cerrone since he beat Alvarez, a fighter known for collapsing in big bouts. A successful kick to the head was what led to the TKO win.
He returned to MMA with a stance that escalated the importance of his renowned boxing in his fighting at the behest of his kicking.
This seems like a no-brainer on paper for such a lethal striker with arguably the greatest left-hand counter the sport has ever seen at his disposal, but the Irishman has evidently missed his favourite kick.
If you look at Conor's fights before the Mayweather bout, you will notice a trend of the Irishman deploying front snap kicks to the body of his opponents to damage them from a distance.
These snap kicks were used to great effect in the Chad Mendes and Eddie Alvarez fights especially – both fights had UFC gold on the line.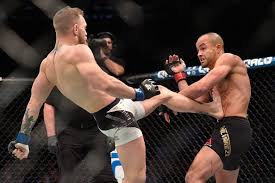 Upon his return to mixed-martial-arts (MMA), he attempted a knee against Khabib that was dodged and did use his snap kick but most of the fight was spent on the ground.
The former double champ tried to assert authority in the second round of the Poirier rematch with a variety of kicks, but Poirier had already done too much damage to Conor's leg.
What was once 'The Notorious' main ranged weapon is now a relic of the past – his more aggressive boxing style of recent fights has all but neutralised the existence of this kick.
Gone with this is also the opportunity to measure the distance between himself and his opponent for a future attack which was crucial in some fights during his rise to the top.
Conor rarely stopped opposition attacks to his legs before changing his style but he hit back with ranged attacks of his own.
Eddie Alvarez did his best to take advantage of it during their lightweight title fight, but Conor was able to overcome it because he kicked back.
Fast-forward to the night of January 23 and Conor is facing someone with a similar game plan to Alvarez and he reacts differently – he allows them to chew his inside leg up and it leads to his dead leg and, ultimately, his demise.
Whenever he started to attempt to protect them, it was usually done by catching Dustin's foot, but Dustin was always able to get the kick to connect before this happened.
Conor should have brought back his most recognisable kick as soon as Dustin first checked his calf and hit back with some of his own in return quicker than he did to protect his calf.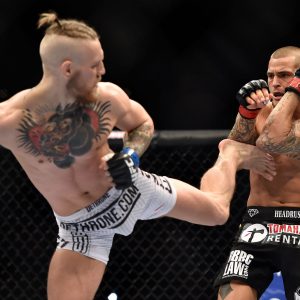 This could have added more to what was a strong start – McGregor had a unanimous first-round 10-9 lead on the official scorecards.
By not doing so, he doomed himself to a fate that anyone could have guessed was inevitable by the start of the second round.
There may be hope that his front kick will return in his next MMA fight, whoever it may be against, after the multiple kicks he attempted against Dustin Poirier in the second round before being beaten but his once trademark kick has yet to be utilised since that dominant performance in 2016 and it is clear when looking at the last three fights that he has missed it.
Although still an entertaining fighter to watch, it is clear he has regressed in his new stance.
Ditching his once-beloved snap kick cost him against Poirier.
If he returns to the pre-Floyd stance then he can return to the top of the lightweight division.
If he refuses to do so, then we may be witnessing the decline of Conor McGregor in the octagon.