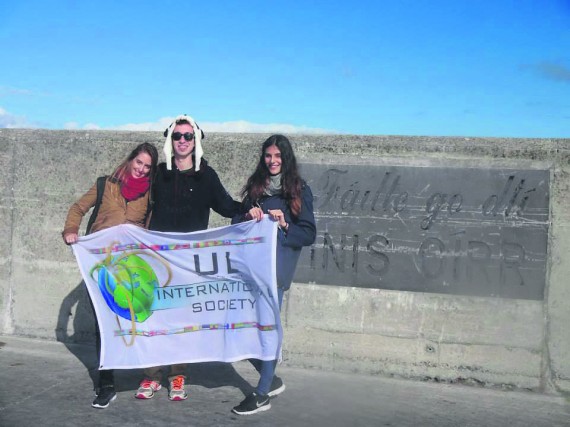 By Aoife Willis
Dolphins, ferry boats, shipwrecks and laughs, all in the day of an International Society trip.
Although dolphins, ferry boats and shipwrecks are possibly unique to a trip to the Aran Islands, laughs are most certainly a staple of every trip organised by the society. These trips are made possible this semester by this year's returning trips officers Edward Corbett and Daniel Del Blanco.
Saturday's proceedings started at 8am, almost sharp – there's always a straggler or two that early in the morning – when 108 International and Irish students piled onto two buses.
Arriving at the remote sea side town of Doolin the students swapped a bus for a ferry and headed to Inis Oírr. There the students had the opportunity to check out the sites which included castles, a light-house, a shipwreck and the local cuisine served in pubs and cafés across Inis Oírr.
Arriving back in the evening, the trips leaders were sure the students truly made the most of their day and their first taste of an International Society trip. The sea air and immense variety of things to see and do on the island seemed to take its toll and there were many a drooped head as many of the students dozed on the return bus journey.
If anyone has any questions regarding future trips run by the society please email us directly at tripsulinternationalsoc@gmail.com.