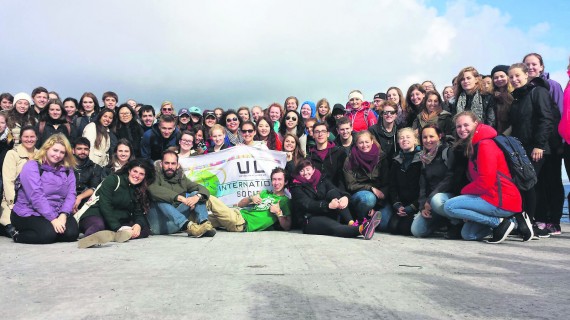 By Aoife Willis
Welcoming 718 members to their Wolfpack, UL's International Society had a busy week one. Along with the large sign-ups, the society also had its first trip to the beautiful Aran Islands and under the leadership of this semester's new president it is sure to be an extremely busy few months.
Stiofán Mac Brádaigh explained: "Even though we're only at the beginning of the semester, we are busy planning more events, more trips, and more everything so that our members get the most from UL International Society.
"If you're interested in joining, check out our Facebook page, pre-register online on the UL Wolves Clubs & Societies page and then come meet any of our committee members who can sign you up."
He added: "If you have any ideas for something we could do, let us know and get involved with us. Join the UL International Society today, it'll be one of the best decisions you ever make."
The society's main aims are to give both Irish and international students a chance to meet new people from both Ireland and all around the world, to form new friendships and to make all of its member's time at UL, no matter how long or short, memorable. To make these goals a reality the society organises several trips and events throughout each semester.
Trips
This semester's trips are overseen by the highly energetic and passionate duo, Edward Corbett and Daniel Del Blanco. A trip to the beautiful Aran Islands off the coast of Galway, which was made up of 108 students, kicked off this year's proceedings.
According to Edward this was "Just awesome" and went "without a hitch". International students Evelína and Emma described the trip as "amazing" and said they "enjoyed the trip very much".
Trips will run every two weeks throughout the semester with the next one setting off to Dingle and the Dingle Peninsula on the 26th of September. Future trips include a medieval tour of Tipperary, a weekend trip to Belfast, Blarney Castle and Cork City and a mystery tour closer to the end of the semester.
Events
Events are a huge part of the society's semester. This semester the society is looking forward to taking part in SoUL Week (Week 7) where they will be hosting an international food fair.
This is an opportunity for both Irish and international students to put some of the delicious delights their country has to offer on show, and of course there will be the opportunity to taste these wonders.
If you miss out on this there is always the chance to take part in our 'International Come Dine with Me' – be wined and dined by some of your fellow students in exchange for one night of hosting and pleasant dinner conversation.
International TGIF
The gem in the society's crown is the weekly International TGIF Night hosted by The Stables Club every Friday. International TGIF is without a doubt the best night of the week in UL and with each week having its own theme, each night is sure to be a memorable one.
Some of these themes will include Oktoberfest, Halloween, Thanksgiving, ABBA (Country Colours) and more. Be sure to check out the society's Facebook page each week to find out what fantastic theme is in store each Friday.
The International Society is looking forward to the semester ahead and is excited to welcome all its new and old members alike.