France 23 – Argentina 21
France and Argentina got Pool C of the Rugby World Cup (RWC) started this morning in a very early, and very pivotal, big game.
Both teams are very inconsistent, which added to the excitement as you never know which French or Argentine side will turn up.
Both teams have vanquished Ireland in past iterations at the Rugby World Cup, with the French ending Irish hopes in the Quarter-Final stages in 1995 and 2003, and Argentina crushing our hopes in 1999 and 2015 quarter-finals, with both teams dumping Ireland out of the group stages at the 2007 tournament.
France showed quality early, moving fast with the ball but ultimately knocking on and collapsing the following scrum.
The game settled into an early rhythm of silky French passing and strong Argentinian tackling. A penalty in the 11th minute caused by loosehead Poirot in the scrum gave Argentine fly half Nico Sanchez the chance to hit 100 points in the RWC – he didn't.
A minute later, Sanchez made amends and slotted one between the posts. After this score, France controlled the ball once more.
They pushed Argentina's defence for several minutes before Damian Penaud broke through, nearly getting there himself, being stopped at the 5-metre line. France played the ball across the pitch and found Gael Fickou who got their first try, with Ntamack bringing their total up to seven.
France's dominance continued, regaining the ball quickly and pushing the Argentine defence once more. Once again, their silky passing and pressure resulted in a try, this time scrum half Antoine Dupont getting himself over the line. Ntamack, yet again, inch-perfect with the kick, showing the world, and his club, his qualities at fly half.
Nico Sanchez took a heavy hit shortly after the restart but was cleared to continue. An injury to Sanchez would have been a huge hit to Argentina's chances this year.
A sloppy knock-on by Poirot ruined a promising move for the French, who looked set to score once more. A lovely penalty from Ntamack corrected Poirot's mistake and put France 17-3 up after 30 minutes.
A period of Argentine pressure arrived, forcing the French to retreat to their 5-metre line, where they remained and numerous scrums occurred. The Argentine's move fell apart with these scrums and the French were able to clear the ball with a kick into touch.
Ntamack finished the half with yet another beautiful kick to give France a 20-3 lead going into the second half.
Argentina came flying out the blocks in the second half with a quickfire try from a brilliant maul. Sanchez excellently converts and lowers the deficit to 10.
Pressure began to pile up on the French as the Argentines got a lot more comfortable and a lot more familiar. The penalty count for France grew into double figures as a result.
France finally crumbled under the pressure and, after another fantastic maul, replacement loosehead, Julian Montoya dived on the line. A brilliant change in momentum in the game. Sanchez's kick veered off to the left but the chance to win this game was there.
The onslaught continued as Penaud was penalised inside his own 22 with a comical foul, granting the replacement Ben Urdapilleta an easy three points.
France repeatedly showed their serious lack of discipline with the constant fouling in the second half, something France can never seem to shake.
Penaud was brought off after falling wrong at the 65-minute mark. However, the penalty went Argentina's way and Urdapilleta put them in front.
Camille Lopez, Penaud's replacement replied instantly with a badly hit drop goal that managed to creep over the Argentine posts.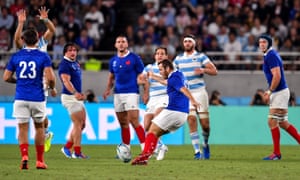 France seemed to wake up and started to actually provide opposition for the rampant Pumas, possibly due to Louis Picamoles' introduction – a man seen by many to be France's best forward.
An interception by Picamoles led to a penalty for France, which Ntamack wasted, although that should be no insult as he's had a fantastic game.
A mistimed tackle by Gael Fickou on Emiliano Bofelli gave the latter the opportunity to convert a long-range penalty to take the lead with a minute to go. Gael Fickou counted his lucky stars as Bofelli's kick swerved left.
Five phases of play ended in a turnover and France kicked it into touch to end the game with a two-point win.
Neither team should be impressed with their performances as both weren't up to RWC-winning standard. France will obviously be the happier side but the realistic take from this is England could easily sweep these two aside.
It was another great exhibition of the sport for the world to see but a disappointing scrap after the final whistle will surely dampen its effect. Nevertheless, the game was a great appetiser for what's to come later in this exciting tournament.