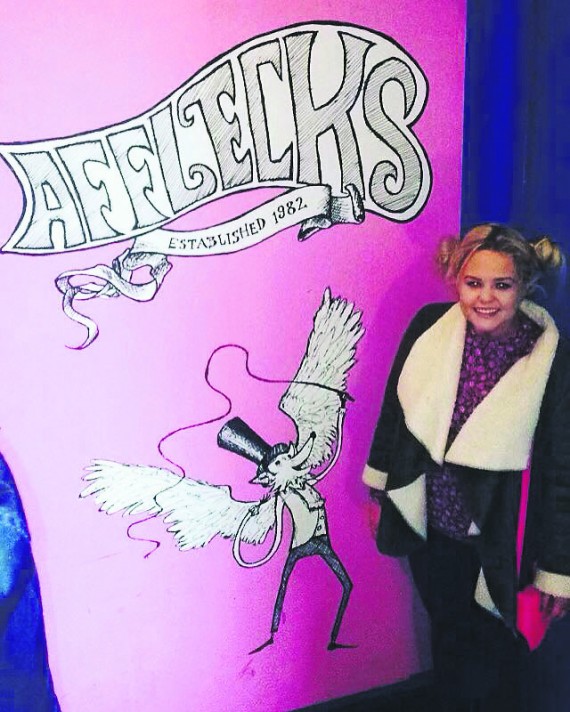 By Sally Gorman
So the last two weeks have been busy busy busy. I have been job hunting and guess what? I got a job! Yes, I start in Goldsmiths Boutique Jewellers in the Arndale shopping centre this week and I am super excited.
Surprisingly, it wasn't as difficult as I imagined actually. I managed to land myself to interviews in two different jewellers and I was offered the two jobs. Typical.
The hardest part was choosing which position to take but in the end I went for the one closest to home. Simply because it will be easier to get home after late shifts.
So I start on 15 hours a week which is perfect as I imagine that will be split over two days. Ideal because I only have two days in college.
It will be great knowing that I can now enjoy myself a little more without having to worry about money matters.
So to celebrate we had a night out in Manchester's Northern Quarter. The Northern Quarter here is the equivalent to Temple Bar at home. To say we went on a bit of a pub crawl is an understatement. I think we saw the inside of every pub and met some very interesting people.
I have made a bucket list to complete before my time here ends and I put art galleries on it. I don't really have a huge interest in art but Manchester is pretty renowned for its galleries so why not? I was never so glad that I did.
I stumbled across some of Banksy's earliest work and to put it mildly I love his work. It was well worth paying Manchester Art Gallery a visit for that alone.
Since I've got here I've heard so much about Canal Street and Manchester's Gay Village. It certainly didn't disappoint. Even though I haven't spent a night there yet I just fell in love with the atmosphere. Everyone was in such good form, really bubbly and ready for fun. I'll definitely go back.
I've also been to China Town. But didn't actually have any Chinese. Being honest they didn't look too impressive, maybe you just need to know the right place to go. What I found most impressive was the Chinese Arch erected in the middle, so cool!
The Town Hall on Albert Square is another must see. Simply for the beautiful architecture and beautiful building alone.
Netflix has also become one of my best friend's over here. There is no TV in my flat, the horror!
We only have one in the common room for the whole building and more often than not the boys take over. There seems to be soccer on every night of the week, its torture. So, I've started a few series on Netflix to keep me going.
Orange is the New Black…Check.
Luther…Check.
Endless Disney movies…Check.
As you can tell I'm not the greatest football fan but I decided that I can't come to Manchester and not see Old Trafford right? So just last week I did the stadium tour with James ahead of last weekend's Manchester Derby and I really enjoyed it.
I don't have a huge interest in the game but I do know quite a bit about it because of my brother's childhood obsession with all things United. So that probably aided my enjoyment.
The tour was very extensive and our guide was a ticket. We were shown the dressing rooms, the press room, the VIP area and even Sir Alex's box! Hopefully I'll get to go back for an actual game, fingers crossed.
I also found Afflecks: Without doubt my favourite shop in Manchester. As they say themselves, Afflecks is an "eclectic arcade of the geekily hip and the lovingly handmade and the skilfully pierced lip, not to mention our treasures and trinkets and tokens."
It has everything you could possibly think of under the one roof. I spent three hours there and could have spent three more. Some of the things I bought included a rose gold nose ring and blue lipstick. If that doesn't sum it up I don't know what will. So vintage, so hipster.
We have also been trying our hand at pub quizzes over here. They seem to be all the rage. Needless to say we haven't had much luck. On the plus side though they are usually in Media City which at night time is pretty amazing lit up in all its glory.
Halloween seems to be an even bigger craze over here. I picked up a cool sugar skull mask in Afflecks and I'll team it with my blue lipstick for a night in Tiger Tiger.  I'll let you know how it goes!
Presenting class next week should be interesting too. We are covering 'selly telly' – In other words we have to bring a product to class and sell it in front of the camera for three minutes. Believe me it's not as easy as it looks.
So my homework was to watch the shopping channels, best get to it then. Wish me luck!