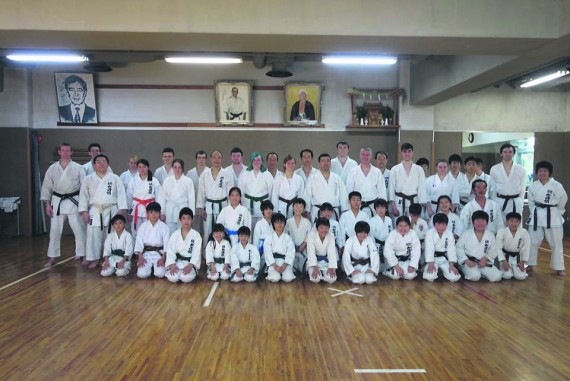 By Robyn Griffin
The 7th January 2016 is not a date any of us will forget anytime soon. After twenty-four long hours of travel, we finally stepped off the plane and set foot into Narita airport. Some were greeted by an air of nostalgia and the rest were beaming in anticipation of adventurous times to come – ULSKC had arrived in Tokyo!
From wonderfully weird coffee in a can, to immaculate skyscrapers, tantalising cuisine and world-class karate, Tokyo had it all. On top of having the opportunity to train in the world's SKIF (Shotokan Karate International Federation) headquarters every day, we had an opportunity to embrace the Japanese culture in its entirety. We visited religious landmarks including Meiji shrine and Senso-ji temple, participated in ninja training, and indulged in some traditional dumplings to maintain our energy levels. In the spirit of to the trip, we also visited the shrine of Funakoshi Sensei, the "father of modern day karate", the grandmaster who helped create and develop what we know today as Shotokan Karate.
In addition to the awe-inspiring the sights and surroundings, training was a crucial part of what made the trip as amazing as it was. All members challenged both their physical and mental limits and endeavoured to attend every training session, not wanting to miss so much as a single training session with some of the world's most well-renowned Sensei – few are fortunate enough to get this experience and we wanted to make the most of every moment. Of course, the training was intense, but the sense of euphoria and fulfilment at the end of each session, as well as our passion for karate, was a reward in itself. The members of the Hombu (headquarter) Dojo were even so kind as to invite us all to the New Year's Party, attended by all of the top instructors and the great Kanazawa Soke, the founder of SKIF. Getting to speak to the Sensei and the Japanese members of the Dojo was fantastic; we learned so much about them, their culture, their great sense of humour and their delicious food!
The trip consisted of more than just training, however, and the schedule was packed tight for each and every one of us; from visiting Odaiba in Tokyo Bay and visiting Shibuya, the most well-known shopping district in Tokyo, to karaoke in Ikebukuro, where region in which we were staying, there was never a dull moment. It was also lovely to have the opportunity to meet previous club members, both from Japan and Ireland, who were more than happy to act as the tour guides, taking us to the more traditional Japanese restaurants and sightseeing spots such as Tokyo Skytree, an observatory deck at 450m above Tokyo.
It really was a once-in-a-lifetime opportunity and everyone came back feeling delighted, exhausted, and just a little bit heart-broken to have left their new home. We miss you already Tokyo, but I promise, we will return!