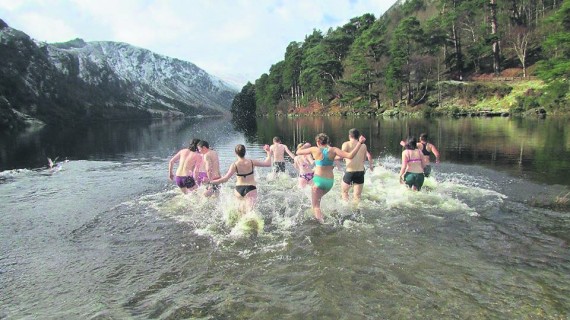 By Eoghan Carey
It's been a while since we have published anything from our club. Nevertheless so much has been going on over the semester with our mountaineering trip to Morocco, our charity event Climb Everest and general club activities such as the annual Glendalough weekend trip and our weekly hikes. There is currently a group of members about to head off to Spain for a week for the annual Easter rock-climbing week so we should have all of the stories once this article is published and most recently, our own Tomás Walsh won the Jason Hackett Outstanding club member award at the C&S awards so we are all very proud of him.
Where to begin. That's a tough question. So much has happened throughout the semester that it's impossible to choose one thing in particular. I suppose we could start off with Morocco. Somewhere new that no one in the club has ever been to before. A group of about 10 members took off just after the New Year and set their sights on the nation which was home to Mount Toubkal, the highest mountain in north Africa. After a flight to Marrakesh and a long bus journey to the refuge which would be the group's home for 10 days, the preparation and training would begin.
The lads got in a bit of ice-climbing and although sickness fell upon some of them, others such as our former climbing officer Ryan managed to reach the summit of Toubkal hanging off the structure at the summit looking like a child swinging on monkey-bars wearing a Kilkenny jersey. I can only imagine what sort of craic the lads got up to while over there as I wasn't there myself and it looks promising that a group will be heading back there again next year.
The club has gotten very involved in charity events this year and the most recent event we held was the Climb Everest event in Week 7 at our climbing wall. The idea behind this was that each member would make a donation towards St. Vincent de Paul and climb a certain amount of metres. A large number of members attended the event which ran from 3pm to 10pm and we raised over €300. As a large group effort we surpassed the 8,848 metre summit of Everest to over 9,000 metres. Another charity event the club organized during this years' Charity Week was the Night Hike in aid of Corbett Suicide Prevention Patrol. A group of members left for Keeper Hill in Tipperary at 6pm on the Wednesday of Charity Week and set off for an evening stroll with the proceeds of the hike going towards charity.
The club has been very active in raising mental health awareness. We held our inaugural mindfulness hike this semester. The aim behind this was to gather a group of people together and allow them to take time out of their day to unwind and reflect. We started at the climbing wall and then proceeded to walk towards Kilmurry Beach. From there the mindfulness hike began where everyone proceeded along the riverbank in silence. Everyone walked at their own pace allowing themselves to clear their thoughts and preocupations relating to college or anything else that could cause stress. We hope to hold more of these events later on in the semester as the weather improves. A week after our charity night hike to Keeper Hill, a group of our members participated in an event called 10,000 steps night hike back to Keeper Hill which was coordinated by the Students' Union. This was to increase mental health awareness and particularly around the time of the semester it was much needed for students to de-stress. We hope to be a keen advocate for mental health awareness in the future and to increase the awareness through the different club activities.
From holding climbing competitions to women's hikes and from Wales to Morocco to Spain along with bringing in our own range of club fleeces and t-shirts for our members the club this year is going from strength to strength and we hope to wrap up the next few weeks of the semester and the year on a high.