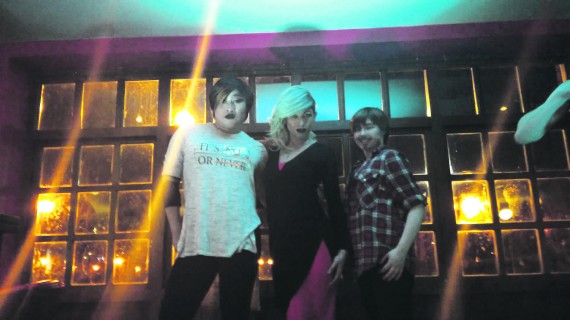 By Kiera Thornton
On Monday 14th March, Out in UL hosted one of our biggest events of the semester in the form of Alternative Miss UL. AMUL is an annual amateur drag competition held in the Scholars Club and we always welcome numerous performers – kings and queens alike – to take to the stage and unleash their inner disasters.
Preparations for AMUL had our committee working hard over the last few weeks. At our weekly members meeting the previous Monday (7th March), we had a drag workshop, which included a demonstration of drag makeup and an informative presentation on the history and cultural significance of drag. Right up until the night, AMUL fever was at its height in Out in UL HQ and beyond! Indeed, we attracted fantastic crowds to AMUL, Out in UL members and non-members alike. Though some people who were in Scholars beforehand may or may not have been aware that AMUL was taking place there, a few looked ever so slightly taken aback when the action began.
This year, AMUL was hosted by two wonderful queens, Teciara Mockingbird and Ali Kuyt, and featured performances from previous winners of AMUL. We welcomed three contestants, two of whom were first-time performers with no previous drag experience. As a member of the judging panel, I myself was awestruck by how impressive all the contestants were. The winner was Charnell Clearwater, a drag queen from Limerick City, who pulled off a remarkable performance that left the crowd mesmerised. It was a particularly entertaining act for those of us sitting at the judges' table, right in front of the stage! The winner was presented with a tiara and will have the chance to perform at our next big event.
Speaking of our next big event, Out in UL HQ is now preparing for Queerbash! This is perhaps Out in UL's largest event of the year. Each year Queerbash has a different theme and the theme is announced at AMUL, and the theme of Queerbash XIII is the circus. Cirque du Queerbash will take place in Dolans on Friday 15th April, tickets will be sold at the door for €10 and will be hosted by none other than Notorious K.I.D, a much-loved previous winner of AMUL who also performed at this year's AMUL. We have many amazing acts lined up for the night, including the band Cosmic Humans and performances from UL Drama Society and Dance UL. It should be a fantastic event so come along, and here's hoping it will be an even bigger success than AMUL.