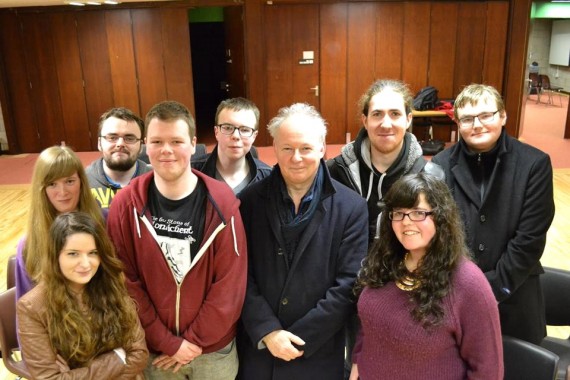 ON 4 February, the Fan Forum Society kicked off the new semester with our SoUL Week event, and perhaps our most exciting to date – a group interview and Q&A session with acclaimed actor Ben Keaton, best known as the oblivious Father Austin Purcell in our favourite sitcom, Father Ted.
A major setback occurred when our other guest, Rynagh O'Grady (who played Mary O'Leary in the show) pulled out at the last minute because of illness; however, any concerns were quickly assuaged when Ben took the floor in EGO-10. After getting into the spirit of things with an impromptu performance of "My Lovely Horse" and a competition to see who could perform the best Father Ted character impersonations, we got down to business.
As it turns out, Ben originally auditioned for the role of Father Liam Finnegan, the dancing priest. The writers, impressed by his knack for comedy, instead asked him to read for the role of Father Purcell, the interminably self-absorbed priest who talks to walls. Ben's first reading was more droning, so he was asked to speed up his voice for pacing reasons, but aside from this he largely found his own take on the character. The actor thinks the funniest aspect of Purcell is his constant stare into the void, and failure to make eye contact with his victims – Purcell thinks his rambling stories of boilers and envelopes are so fascinating that nothing but his own voice seems to register for him. While Ben adhered strictly to the written dialogue, he also got a chance to show off his improvisation skills for the unscripted, fourth wall-breaking credits scene, where the audience is drawn even deeper into Purcell's psychosis.
Remembering Ben for his Father Ted character, many of our attendees were surprised at the richness of his career, both onscreen and off. An accomplished improvisational comedian, Ben won the prestigious Perrier Comedy Award in 1986. He had a stint on Emmerdale, and played a lead role in Casualty for three years, but remarked that these larger parts are all but forgotten – when he gets recognised, it's almost always for Purcell, even though it's been nearly two decades since he played the role. Strangest of all, he also wrote an episode of Balamory, allowing us to ask him that perennial question: "What is the story in Balamory?" When we inquired if he had a dream role, he surprised us by saying that he'd already achieved his greatest acting goal – portraying Cyrano de Bergerac at the Royal Exchange Theatre in Manchester, 2006. Most recently, he played a corrupt, libidinous priest in the hilariously terrible horror film Love Bite – its Father Purcell gone wrong. Nowadays Ben teaches secondary students the basics of acting and filmmaking at the Lincoln Film and Television School, which he also founded.
The weather meant we couldn't use the Stables courtyard as originally planned, but this turned out to be a blessing in disguise – EGO-10 was a much calmer and more intimate venue, allowing for a relaxed and conversation back-and-forth between Ben and the audience. Towards the end of the interview, Ben even started to ask the crowd questions, eager to understand the monolithic cultural significance Father Ted had on our generation, who were lucky enough to grow up with it. He also treated us to a reading of two of Purcell's monologues, a brief recording of which can be seen on the SoUL Week Facebook page. The interview lasted well over two hours, after which we took Ben to Scholars for a few pints, now with a surprisingly deep appreciation for a minor Father Ted character. The night was a tremendous success, and we look forward to organising similar events in the future.
By Gerard O'Mahony, PRO