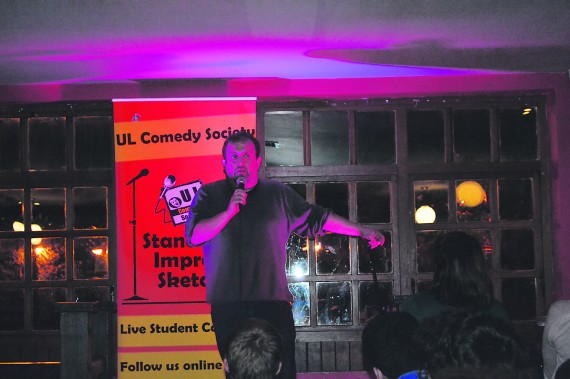 By Seamus Toomey
Karl Spain was top notch comedy, immediately you could see his years of experience and his confidence on stage made all the difference in comparison with UL Comedy society's beginners.   It'll all come to them eventually but it's definitely a tangible difference and straight away Karl was getting laughs and he executed each one of his jokes flawlessly throughout the night. I don't remember any awkward silences or jokes bombing and it wasn't like he was reserved or conservative with his topics.
Abortion and holocaust jokes a plenty this was not comedy for the light hearted and we loved it. With that though he was also down to earth and light hearted, he made fun of himself and through gritted teeth told us of the praise he once got from Ed Byrne. And how that ended with Ed Byrne laughing at how unbeautiful Karl is, a story only a modest head could admit to a crowd.
Karl worked the crowd for the majority of his set, he got around to several groups, made fun with some of the nights other comedians, slagged some of the international students and even gave me a roasting.  Again you could see his experience come in, it didn't matter what was talked about he had a gag or a story about everything, from other comedy gigs, from his life or from his travel.
Karl came in and regardless of if he had material prepared I don't think he needed it, he was casual, calm and callous with us. It was like he was a friend, one who knows a little too much, his observations were a little too close to the mark and he didn't hold back but it was all in good fun.  We all laughed especially the lucky few who got Karl's scathing attention, perhaps we allowed him some lean way being a little star struck that he, a celebrity (kind of), was actually chatting with us.  Then again maybe it was just his charming good looks *queue Ed Byrne laughing*.
Story after story Karl made sure people were laughing at themselves and each other.  Our countries and course choices were attacked and mocked but my favourite joke from the night had to be when Karl was addressing a young Erasmus student from Hamburg in Germany.  He started off explaining that they handled and organised the World Cup fantastically from a public transport perspective.  And finished with "the Germans were always good at getting tens of thousands of people onto trains and moving them around the country".
Amy Lee Fox, comedy society president and performer on the night said "All in all despite a few hiccups, namely the fire alarm and late start the night was a resounding success. Karl Spain wowed the crowd over and was very complimentary of the crowd and the scholars. I'm very proud of all the acts and our MC for 'bringing it' as it were. Our next gig is Monday of Week 10 so be sure to come along".