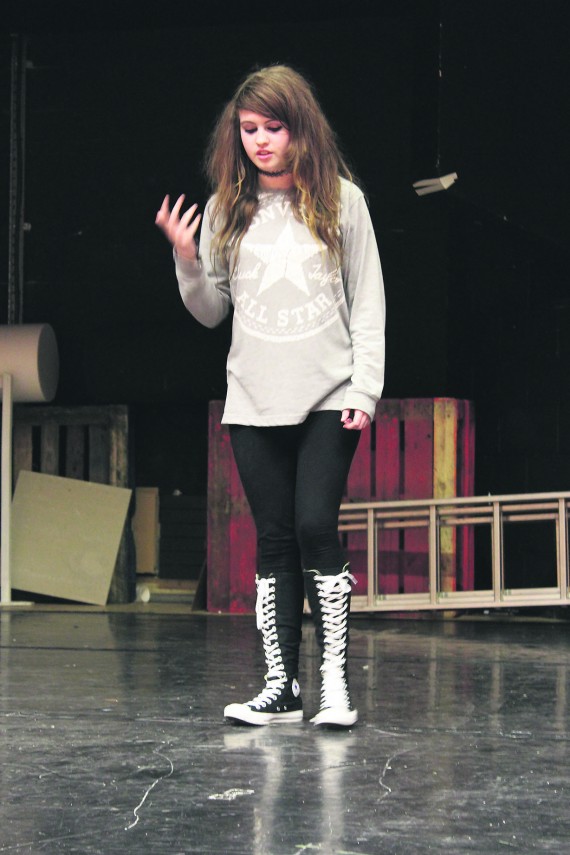 By Cathal Moore
UL Drama Society is still steam-rolling through the semester, having just held our sixth workshop of the semester – Monologues. We had a range of performances, from 'The Hangover', 'The Avengers', 'Harry Potter', 'The Corpse Bride', and much more. For Halloween we held a Special Effects Make-up workshop and afterwards we had a Zombie Walk around campus.
With the SoUL Arts Fest now over the UL Drama Society is coming off another successful string of events.
For Week Seven's SoUL Arts Fest, we put on several events. From the beginning of the week, we were pulling off Public Break-Ups in Scholars, Stables and Red Raisins to cause a stir and create a bit of drama on campus. From cheating boyfriends to disloyal best-friends, and slaps to the face and glasses of water thrown, on-lookers were left shocked and amazed by what they were seeing. One particular break-up even made a stir on Yik Yak.
We also put on a short one-act show called 'Limbo' written by one of our graduated members, David Watters. Starring three of our first-year members, 'Limbo' saw a young man sent to a strange interpretation of Purgatory to meet Saint Peter and get a second chance at life. Making his on-stage debut, first year MMPT student, Peter O'Neill stole the show with an extremely strong performance dealing the dry humour of Saint Peter.
The ever-charismatic Leo McKenna brought a sense of realism and humanity to the stage as the bewildered teenager Calvin, delivering a lengthy emotional monologue after a series of hilarious encounters. All the way from New York, international student, Summer Howard brought her passion for theatre and love of Shakespeare to the stage as the money-hungry gold-digger, Jaqueline Merchant. Overall, the show was a great success as three of our new members made their first appearance on-stage for the society and developed their performance skills and the society got some great exposure.
On the Friday of SoUL Arts Fest we held the much-loved Drama Society Sleepover in the Students' Union. It was a night of Cards Against Humanity, Mario Kart, Call of Duty, and Just Dance (thanks again to Games Society!). And also getting turfed out in the rain after the fire alarm was set off in Stables. Everyone outside in the rain in their pyjamas singing songs and keeping spirits up huddling together is what Drama is all about – we stick together, we're a family.
Once back inside, the party soon picked right back up and, for some, didn't end until the morning. Some thought playing Just Dance at 7am was appropriate, while most were snoring (loudly) in the Games Room. It was a fun night for all, and we're hoping that good cheer carries on for the rest of the semester.
In the upcoming weeks, we're looking forward to collaborating with Out in UL to hold a slight spin on last year's Disney Quiz for this year's Rainbow Week, as well as having a theatre trip to The Limetree Theatre and our usual workshops.
Since the start of the semester we've been practicing hard for our big show – 'The Affairs at Meddler's Top', directed by our own Sinéad Morrisey. After a slight shuffle in cast, we're back on track rehearsing strong for Week 11. 'The Affairs at Meddler's Top' is a murder-mystery comedy starring a host of the best UL Drama Society has to offer.
Eoghan Hussey's portrayal of Peregrine – a smarmy and slimy pompous tennis player – is bound to have the audience laughing for days on end once he hits the stage. German visitor, Joe Bear is a particularly talented man on-stage as the theatre performer Bouffant Éclair, and veteran performers Meadbh Lynch and James Lillis will be taking to the stage in the lead roles of Sir Hector and Lady Davinia to be our hosts for the night.
Be sure to keep an eye out Weeks 10 and 11 for show times, this one is not to be missed!
We always accept new members, and it's not too late to join in time for Stage Fighting and Improvisation in the upcoming weeks. Keep an eye on our Facebook, and don't be afraid to contact me at pro@uldrama.ie if you have any queries or questions.