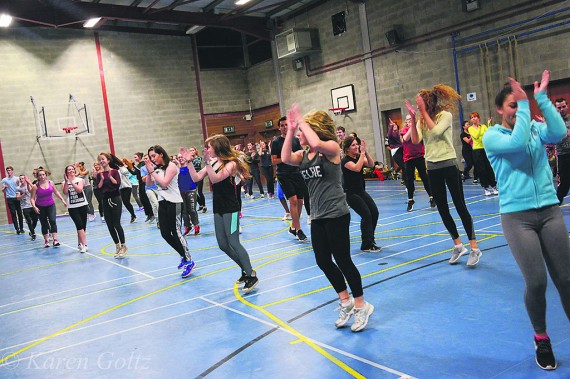 By Karen Goltz
It's been a busy month for Dance UL!
Our members have been enjoying our weekly classes offering a wide variety of dancing styles, from hip hop to contemporary to Irish dance. We've had an amazing turn out over the last few weeks and look forward to finishing off the semester with a bang.
You may have seen Dance UL bopping about campus over the past few weeks. We had members, teachers and committee members alike showing off their skills at the UL Open Days and SoUL Week festivities. Mascot Wolfie even got in on the action.
We recently held auditions for this year's Intervarsity squads. The All Ireland Dance Intervarsity Competition is Ireland's biggest collegiate dance competition, held every year at a different university. Competitions include groups for Irish dance, contemporary, jazz, hip hop and mixed groups. Last year Dance UL hosted the event right here in the University Concert Hall; in addition to that, our teams walked away with two first places in hip hop and contemporary and a third place in Irish dancing.
This year's event will be held in Trinity College in Dublin, hosted by DU Dance. We were delighted with the number of amazing dancers who came out to our auditions; you should all be so proud of the amazing standard you brought to the table! This year we will be sending teams for all five categories. The squads will spend the next four months perfecting their routines before heading off to take on the competition in late February.
In addition to the Intervarsity competition, Dance UL will also be taking part in the All Ireland Dance Experiment, hosted every year by DCU Dance in The Helix in Dublin. This is a showcase that takes place every November where dance societies from all across Ireland are invited to present a mixed style routine. This year's theme for the performance is "dare to dance", and Dance UL will be doing just that.
Rehearsals have already begun as our dancers dedicate their time, energy and passion to this project. The performance will be held on Tuesday, November 10th and we encourage anyone with an interest in dance to come see this wonderful showcase. We will be posting ticket information on the Dance UL Facebook page.
One of our favourite traditions in Dance UL is our end-of-semester showcase. In Week 12 of every semester we invite our members to show off what they've learned with us. You'll see performances from every class as well as solos and other amazing acts. Keep an eye on our Facebook page for details. Make sure to mark your calendars because this is a show you won't want to miss.