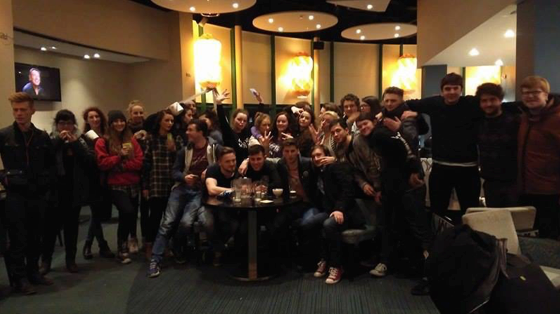 By Sonya Ramondino
Presenting: DanceUL's wild and wonderful transition into the year 2016, complete with amped-up classes, sweaty rehearsals, enhanced camaraderie, and an outrageous amount of fun.
Classes are well underway, jam-packed with foundational technique and fun choreography, all carefully executed by your very own dedicated teachers. Students from all levels and dance backgrounds are invited to join any of the classes, including Hip Hop, Irish Dancing, zULmba, Contemporary and Jazz.
Whether you are craving a different style of movement, want to fine-tune your forte, or are daring yourself to dive into the unknown (which we highly encourage), these classes are for you! See the table for class times and locations.
Alongside this diverse class schedule are your 2016 intervarsity team rehearsals. Each team consists of a variety of student dancers from across the world, passionately preparing to represent UL in Dublin for the upcoming annual intervarsity competition on 2nd March.
UCD is opening its doors to all who wish to support and take pride in their respective schools. This is an excellent opportunity to engage in a national demonstration of dance culture, and enjoy a day away from that ominous pile of books sitting precariously by the edge of your desk. For more information and further details about the day, visit (and follow) DanceUL on Facebook, Twitter (@DanceUL), and Instagram (/officialdanceul).
Further kicking off the semester, DanceUL was thrilled to collaborate with the Drama Society in co-hosting the biannual Table Quiz. An enormous thank you is extended to the staff of the Pavilion, for providing the space and for servicing such a successful Clubs and Societies event.
The quiz itself resulted in a cut-throat tiebreaker, with an interesting attempt to gain the upper hand (which may or may not have included the delicate art of flirtation). Great prizes, finger food and a hilarious combination of team antics made for an incredible night. Keep a keen eye out for ample opportunities to become socially involved with UL's dance community throughout the semester. We're pumped to meet you.