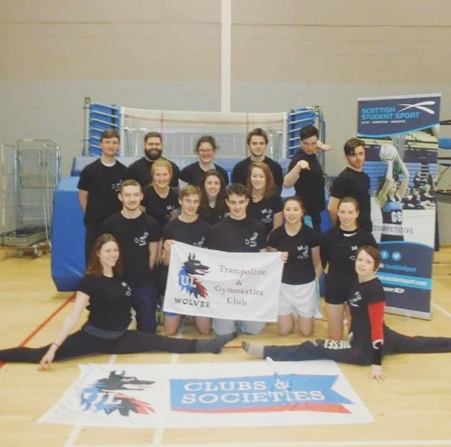 By Clodagh Doyle
What a semester it has been so far. We hope all of you have settled in well. ULTGC really kicked things off with a bang this year. Not only did we travel to Glasgow for our first international competition of the year but we also organised an awesome, glowtasic UV Paint Party.
Our trainings are back to their usual times (Tuesday 7pm-10pm and Thursday 7pm-8:30pm) so don't be shy and bounce along. We have a range of stations for you guys to try. From gymnastics to DMT to trampolining. There is never a dull moment.
For those of you who were at the UV Paint Party this Thursday, we hope you got absolutely covered in paint and had the time of your lives. We hope you loved it as much as we did. It was an unreal night to say the least. Shout out to the UL Trampoline Club for making it happen. Also, a huge thank you to the PhotoSoc and the International Society for helping us out too. You can check out all your photographs from the night on the UL PhotoSoc Facebook page. (Tag all your friends in the cringiest photos you can find.)
Congratulations are in order following our recent Trampoline competition, the Scottish Student Trampoline Open of 2016. ULTGC travelled overseas to Glasgow to compete in one of the biggest European college competitions of the year. We are proud to say that as a club we did fantastically well and brought home the medals to prove it. The standard was incredibly high so a big well done to our medallists:
Brendan Golding – Bronze in Novice Mens Trampolining
Rachel Cahalane – Silver in Novice Ladies DMT
Joe O'Connor – Bronze in Mens DMT
Brian Finnerty – Bronze in Advanced Men DMT
Clodagh Doyle – Bronze in Advanced Ladies DMT
Brian Finnerty – Gold in Advanced Two Trick
To keep in touch with the club you can visit our Facebook page: 'UL Trampoline and Gymnastics Club'. You can also follow us on Instagram at 'ultrampoline' or find us on snapchat with 'ultrampclub'.