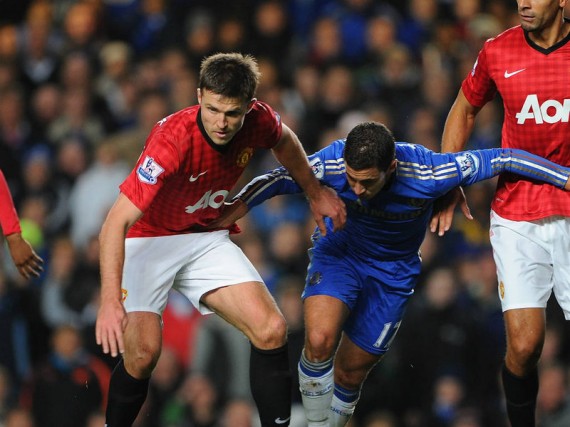 SINCE his transfer to Manchester United seven years ago, Michael Carrick became a name associated with groans and complaints and was often seen as the typical overpriced and overpaid English footballer. Frequently viewed as a player who failed to live up to expectation and as a figure that shied away in the big games, Carrick has now apparently turned the table around. To many he is now viewed as an integral cog in Alex Ferguson's machine as his side chase down a twentieth Premier League title. As a result, he has been on the end of some unfamiliar plaudits of late.
In the build up to the Champions League first leg tie with Real Madrid, Ferguson said: "I know people say we are not as good as Manchester United teams in the past, but sometimes we get foggy recollections about the past." No player suffered at the hands of such reminisces more than Carrick.
Brought in to bolster United's numbers in midfield following Roy Keane's departure, Carrick was handed Keane's number 16 shirt. Straight away he was in line for a firing squad to compare him to past greats. Often seen as the player who never showed the battling qualities or ambition of United players past, he became a figure representing United's decline in quality, despite winning one and appearing in two more Champions League finals and winning four Premier League titles.
This season many commentators have remarked that should United win the league this season, it would be their worst team to do so. On Wednesda night, Eamon Dunphy said on RTE that Ferguson's comments of foggy memories should be dismissed as he stated that "the Roy Keanes and Bryan Robsons" of the past would easily walk in to the current United side ahead of Carrick. However, it would be more difficult to argue that Carrick has not contributed sufficiently to United's cause this season.
Carrick has become more ambitious and workman like this season, benefitting from an increased work load placed on him this season after the departure of Park Ji Sung to QPR and Darren Fletcher and Phil Jones' absences this season due to respective illness and injuries. Carrick has featured in all but one of United's league games this season, completing 90 minutes 22 times so far. He has already played more minutes this season than in three of the last four campaigns despite the fact there are still 12 games left to play. On the ball he has yet to contribute to United's tally in front of goal but he has laid on four assists this season and has had a pass success rate of 90 percent.
Off the ball is where Carrick's work rate is still questioned, especially considering the porous nature of their defence this season. United have looked vulnerable without the ball and the midfield often look lost or over worked. This may well be due to the injuries mentioned above, the decreasing mobility of the aging Paul Scholes and Ryan Giggs, Anderson's persistent failure to live up to his own potential and Tom Cleverley's inexperience. The midfield burden is thus heaped on Carrick as the only real ever-present in Ferguson's side.
Carrick's plaudits may well be deserved but may only be coming his way due to a lack of resources. Essentially he is being praised for his ability to remain available for selection and due to a need numbers in midfield. Had it not been for a want of depth in this area, this may well have turned out to be another ordinary season for him.
Wayne O'Connor