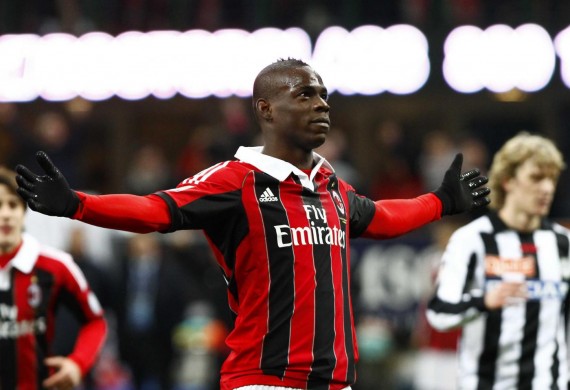 Football is full of superlatives and some age old adages. But we need to look further afield to search for a fitting definition to illustrate the unstable pendulum that is Mario Balotelli. Many talented players go through a career at the highest level with a certain amount of baggage or limitations. Think of big egotistical personalities such as Paulo Di Canio or even Paul Gascoigne. People can be fickle when judging players merely based on the negative aspects. These players can be forgiven for their flaws because of the immense contribution they give to the beautiful game. So the burning question remains. Is Mario Balotelli a pretender? Or will the Italian flourish into what many believe a talented young man with the world at his feet.
Let's dip into Arsene Wenger's book of philosophical interpretations of life. "The whole is greater than the sum of its parts". Indeed this is fitting to the large scale problem of having massive egos in quite a small dressing room. Teamwork and unity is based on trust and sometimes egos can get in the way. The problem with Mario is that he has fallen into a trap door of arrogance and somehow dropped the key behind him. Training ground bust ups with colleagues and managers alike has not helped the Palermo born striker solidify roots in Manchester. A certain level of confidence is always good to carry your teammates on their shoulders when times get tough, but when do you draw the line.
A simple act of petulism shown during Inter Milan's champion's league semi-final against Barcelona in 2010 caused eruptions in the Mourinho camp when Mario ripped his shirt off and tossed it to the ground after a lack lustre performance.  This subsequently led to his transfer to Manchester City shortly after. It would be expected that a professional earning a gargantuan wage would learn from prior mistakes, but it's as frustrating as toilet training a puppy with an attitude problem. It's not easy.
Mancini summed this up perfectly  just weeks after Mario joined up from Inter Milan after being caught up in altercations with Alexsander Kolarov and Jerome Boateng just to name a few. "The problem is because of his age, he can make some mistakes. He's Mario. He's crazy – but I love him because he's a good guy".
There is no doubt there is a Jekyll and Hyde persona lodged deep inside Mario's brain. For all the trouble and strife he brings to a club there is also a silver lining to that cloud. In his time in the Premier League, Balotelli has shown absolutely fantastic ability both in attacking movement and in the instinctive nature of his finishing. But does the Italian have the ability to step up and behave in a dignified manner just like the Milanese that has stood before him.
He now has a massive pendulum on his shoulders following his move to his childhood dream club AC Milan. Unlike Dorothy and Toto in Kansas, Mario can choose to take the correct path for his future without fear of repercussions. Massimiliano Allegri will persuade him to follow the red bricked road all the way to the San Siro to prove what it takes to emulate past iconic greats such as Clarence Seedorf and Paulo Maldini. These are players that are written in the history books for their commitment to the cause. For the beautiful games sake, let's hope Mario tips the scales in the right direction. Then we will see Italy's next big superstar.
Darren Mulryan