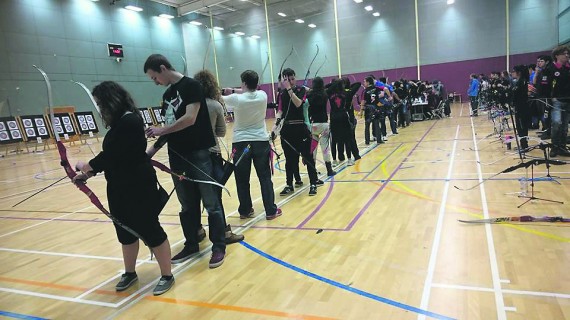 By Emily Kelly and Frank Stafford
UL archery club has represented the college at two separate intervarsities so far this semester. The first competition was hosted by GMIT at the Kingfisher hall in Galway on the 13th of February. This was attended by nine members of our club eight of our members competed in the recurve bow classes and one competing in the compound bow class. All our archers did very well here representing the club with Sean Flavin coming away with first in guest recurve, Frank Stafford coming joint fourth with 2 other archers and just seven points away from bronze in the intermediate recurve class and Devon Long coming sixth in a very competitive compound category.
One of our new beginners Conor O'Brien also did very well scoring above 400 points on a 60cm face target which now means he will be shooting the smaller 40cm target face and was also awarded a white pin. This was followed by an intervarsity held by DCU two weeks later on the 27th of February. UL was again well represented with nine archers competing. Our archers also did well here with Sean Flavin again coming first in the intermediate recurve category, Frank Stafford coming in fourth with just 3 points separating him from silver and Devon Long coming in seventh in the compound category. The next intervarsity will be hosted by NUIG and is the final competition of the year with all the scores from all five intervarsities this year going towards the final awards.
Apart from our success in intervarsity competitions, we have also organised club activities such as a bowling trip. We organised a great evening out where many of our members went bowling and had a great time. We welcomed in many new members this semester who are on Erasmus and also existing students who have decided to try out a new sport. This semester, we welcomed two new committee members into our archery committee also. We also have a few upcoming events in the pipeline for our club before the year is out.