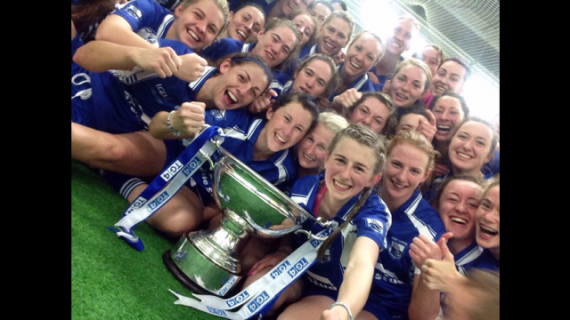 By Aisling Moloney
UL students Aileen Wall, fourth year English and Irish Arts, and Caoimhe McGrath, first year Physiotherapy, recently took home the Mary Quinn Memorial Cup with the Waterford Intermediate Ladies Football team in the All-Ireland Final.
The Waterford Ladies came home with the title after beating Kildare 3-14 to 10 points. To get to the final alone is a huge achievement for both teams and UL can also accredit itself with members from the runners up team.
On September 27th, the Ladies Football All-Ireland final broke the attendance record for a female sporting event in Europe. With 31,083 people watching the games intensely that day one can imagine the pressure and nerves both Caoimhe and Aileen felt along with their teammates.
It was a big day for many of the team members playing in Croke Park for the first time, including Caoimhe.
"It was quite overwhelming." She said that the pre-match dressing room was very relaxed and calm despite the fact that she herself was "shaking all-over".
However Aileen, having played All-Irelands in Croker twice before said: "I felt this time it was not as big a deal for me, I was more focused on the match, Croke Park didn't really come into my head."
Both Aileen and Caoimhe had the large responsibility of starting corner and wing forward respectively in the All-Ireland Final. Caoimhe simply said: "we performed on the day" and commenting on the opposition: "I'd say Kildare had a bad day. We didn't leave them play."
Aileen said: "to be honest, I don't think Kildare came out to play Waterford, I think they came out to play the All-Ireland Final."
She also noted the background research they had done on their opposition. "We had a lot of work done on who we were going to mark, and who were their key forwards, I don't think they thought about that."
Aileen also mentioned how prepared she was to play on that epic pitch. "It's very difficult to look down to the other end of the pitch, and you don't really know what's going on. It seems really far away and with the crowd, you can't hear a thing. I felt I was more prepared for that detachment this year."
Many things contributed to these Waterford ladies' success this year. Aileen noted the influence training here in UL with the college team had on her fitness.
"I thought last year the training really did benefit me, because we trained up until May.  That really helped me in county; I was a little bit ahead of everyone else. I was doing an extra training session a week on top of the county training."
Caoimhe noted a training weekend the team had in Kilkenny. "It was very tough, mentally and physically, but it brought us closer."
From the way Caoimhe and Aileen speak so fondly about their teammates it's clear the team chemistry has had a huge impact on their success. "We all knew each other very well, we were very close," said Caoimhe. "It's nearly a family with the county team," said Aileen.
Aileen Wall who has played with the UL team for the last two years said when asked if there is a difference between playing with college and county: "total difference. I find with the college, it's great fun. More or less everyone is the same age group; you're all going through the same things.
"Obviously you want to go out on nights out, which are a big thing for us. When we're allowed to go, because we're not often allowed to go, that's great fun and we have wicked stories from those nights out."
Also she notes the difference in training atmosphere with the college team. "Up here, when you go to training, it's kind of having a bit of craic." However she also said: "It is a wicked big commitment here, they take it so seriously which is the right way to be. They have won three O'Connor Cups, two in a row this year."
The difference between these sporting students and many others who are equally as skilled and dedicated across campus is that Aileen and Caoimhe will forever be technically seen as amateurs while being treated and trained as professionals.
It is clear from their rigorous training on the lead up to the final these ladies are dedicated to their team and driven for the championship. Of course there are many others who dedicate themselves and their lives to the GAA for only the glory and honour of winning as payment.
Both Aileen and Caomihe said that if they were to be paid for what they do it would "take the fun out of it". "When you think about the work that people put into it, our managers in particular, they put in so much work and they're not even playing.
"They put in probably more hours than we do, they turn up to training and they're not even being paid for doing a job," Aileen said.
Although they acknowledged the fact that the training and dedication they put in is a far cry from "amateur", Caoimhe says being treated like professionals in training is necessary – "that's the way it needs to be to succeed."
Aileen said: "To be honest I love training and I love being fit. I like a bit of a challenge, at training you would be at the brink of nearly collapsing but I get a bit of a buzz off that. I love reaching my peak."
As full-time students both Caoimhe and Aileen felt the common struggle between sport and study. It was particularly strenuous for Caoimhe as she sat her Leaving Cert when training and matches began.
When asking Caoimhe about her commitments to the Leaving Certificate and her commitments to the squad she said: "I think I juggled them well." She added: "Pat Sullivan [the manager] was very understanding about giving me the time, so I wasn't under any pressure to be coming back until the leaving was over, and I knew then I had to work my way back up the ranks."
She confirms being on this victorious team is not an easy feat. "You have to work for your place." When I asked Aileen if she would prioritize training over study she was clear, saying "100%".
She added: "Even if essays were due, I would rather stay up all night than miss training." However she also explained: "It's worth it when you win an O'Connor Cup."
Aileen also had to juggle college football at the time of the county season, "Club, county and college did clash a bit. I found that last year."
Aileen praised the understanding nature UL have towards students with huge sporting commitments. "All my lecturers, they know me by name now. If I went to them they would grant me an extension, they are pretty understanding about things like that.
"As well, D.J Collins, who is over the Ladies Football here in UL, is so helpful, he would do anything for you, you can approach him about anything, he'd go to lecturers and ask for extensions."
She also mentioned the perks of being part of the college team on such a sporty campus. "We get to use the labs in the PESS building. They even put on yoga for our recovery. It's lovely."
Overall the friendships made on the college football team has a great impact on Aileen and her experience here as a student. She added: "I think it has definitely helped, and I go to matches now and we're playing the girls, and you know them. I love going over and having a chat with someone you know."