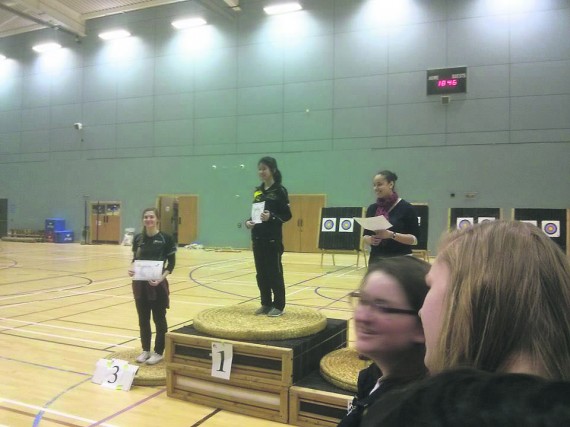 By Frank Stafford and Emily Kelly
UL archery club has been represented in two separate competitions since our last update in An Focal. The first competition that we attended was the Irish indoor national championships held in Monaghan and was hosted by Cuchulainn Archers on the 5th and 6th of March. This is a large competition held every year with the top archers from all over Ireland coming to compete. Unlike the Intervarsities that we have competed at this year where only students from different colleges could compete against each other, this competition was open to all archers around Ireland, resulting in a wide range of people taking part ranging from the youngest cadets eager to progress and possible represent their country one day all the way up to the masters.
UL archery was represented by Paul Collins, Sean Flavin and John Hally who all competed in the recurve category and did very well in the ranking rounds on the Saturday. This was then followed the next day by the head to head rounds, in this part of the competition, archers were paired up based on their score and shoot three arrows each and the archer with the highest score awarded two points with the first archer to reach six points winning the match. Sean, John and Paul all did well here with Paul getting into the final four, however unfortunately he lost out on a medal coming fourth after losing a closely fought bronze medal match.
This competition was followed up by the finals of the student Intervarsity league a week later on the 12th of March. This was held in the Kingfisher hall in Galway and was hosted by NUIG archery club. UL archery was represented by eight archers who all competed in the recurve category. All of our archers did very well achieving good scores, for three of our archers it was there first competition and they did very well with Artem Semenov scoring 405 points, Laura Ciésa scored 453 and come in 2nd in the beginner female category, which was a very good achievement seeing as she only started shooting this semester. Sean Flavin also did very well with a new personal best of 533 points and winning the guest recurve category.
Even though our competition season is over, we will be organising club events between now and the end of the year for all our members be they competitive archers or just people who enjoy coming to training and shooting every week.