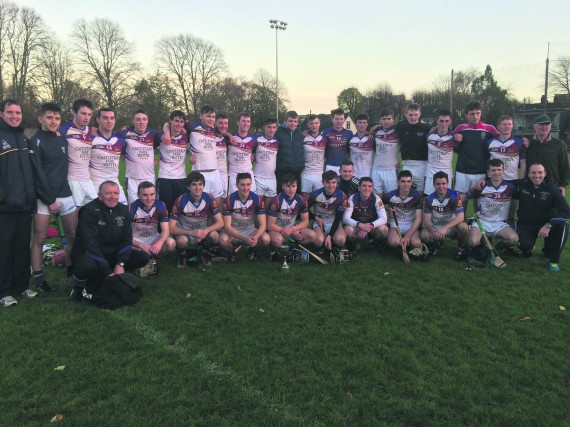 By Marisa Kennedy
With 13 teams for both league and championship, it has been a very busy year for UL GAA Club.
In what proved to be a building league campaign, UL secured two league titles. The senior camogie team are undefeated after winning all group games to set up a final against Maynooth University who proved stiff competition. Our camogie girls held out to win by 1-11 to 2-4 and capture their third Division 1 title in a row.
Our senior hurlers won all but one of their Division 1 group games, reaching a quarter final and losing out to Carlow IT.
Our senior ladies footballers cruised through the Division 1 group stages undefeated, but met stiff competition in the league semi and lost out to DCU in what was their first real test of the year.
Our senior footballers made great progress and 2 wins from 3 in the Division 1 league saw them qualify for a quarter final where they were beaten by UUJ. Both the fresher 1 hurlers and footballers won 2 of their 3 Division 1 group games but the hurlers lost out to UCC and the footballers lost out to NUIG in the quarters. The fresher 2 hurlers captured their 'B' league title with an undefeated run though the league and a final win over UCC. The fresher 2 footballers qualified from their Fresher Division 2 group and after a quarter final win, lost out to CIT in the semi-final. The intermediate ladies footballers won 2 from 3 in the Division 3 league but were defeated by DCU in the league semi-final.
The intermediate hurlers had a tough run in the Munster intermediate league securing a win and a draw which wasn't enough for them to qualify for the knock out stages. The intermediate footballers struggled through the intermediate league failing to secure a win which ended their league campaign.
The intermediate camogie team won 3 of 4 games in the Division 2 group stages, but with only one team to qualify, didn't reach the knock out stages. The junior hurlers won 2 and drew 1 of their 4 Munster junior hurling league games, this wasn't sufficient to see them through to the knock out stages. As the League wrapped up, the foundation was laid for one of the most highly anticipated and most exciting Championships of recent times.
First semester is Fresher Blitz time and our Fresher Ladies Football team won the Fresher's Blitz for the second time in a row after an unbeaten run throughout the day. UL's two other teams on the day qualified from their groups but failed to make the finals. Our camogie Fresher's team lost out to Mary I in the final of their competition by a goal but showed great signs for the future of UL camogie.
The second semester of the 2015/2016 will surely go down as one of the most successful in the history of UL GAA with each of our senior teams making the Final Weekends in their respective codes.
Having made the bright start in the first semester, our senior camogie team powered through their Ashbourne campaign. They recorded massive wins over Mary I and UCD in their group to set up a semi-final clash with reigning champions WIT which they won on a score line of 1-15 to 1-10. The toughest contest was found in the final but spurred on by the heartbreak of last year, UL embodied the meaning of never give up. With the full 60 minutes played, UL found themselves trailing by one. As the last few seconds of additional time ticked away, the inspirational captain Laura McMahon travelled from her full back position to connect with a free and find the back of the net. To great cheers and celebrations, she then lifted the Ashbourne Cup for UL's second time in 3 years.
Second to take their place at the Finals Weekend was our Sigerson Cup footballers who reached the final stages for the first time in 19 years. In dreadful conditions they overcame IT Tralee to set up a quarter-final clash with Queens of Belfast. The ever-reliable Bryan O'Shea was the hero for UL that day as he scored a last minute pressure free to give his team a one-point victory and secure a semi-final clash with UCD in Belfast. This proved to be a very difficult encounter against the eventual champions and despite a spirited second half showing, the team were beaten on a score line of 1-09 to 4-12.
Last year's Fitzgibbon Cup champions started their campaign very brightly despite a number of injuries. A victory over DIT was followed by a hard fought win over neighbours, Mary I. The team then had to battle the elements as well as a strong NUIG team for a spot in the quarter-finals. Despite a one-point loss, they advanced on scoring difference. A five-point win over CIT set up a semi-final clash with UCD. The hurlers got revenge for the Sigerson loss and 2-4 from John McGrath aided the team to a 3-14 to 0-16 win over the Dubliners. The final will go down as one of the best Fitzgibbon games ever played with not even extra time able to separate UL from Mary I. It was a pulsating clash that resulted in two extra periods of five minutes. It was in those last five minutes that UL just couldn't match the intensity of their Limerick rivals as they nudged in front, eventually winning by two on a score line of 3-23 to 1-30.
Our O'Connor Cup team were stopped in their bid for 3 titles in a row after a devastating 1-point loss to UCD in the final. The ladies stormed through the beginning of their group campaign. They comprehensively overcame both UCD and Trinity College. A trip to Dangan to face NUIG had a similar outcome with the girls powering to a 5-11 to 0-07 win to secure a semi-final spot. In the semi-final the girls worked hard to overturn their league semi-final defeat to DCU to set up a final with UCD. However, the clock was not in the girls' favour and a late rally of points just saw them come up short.
Our intermediate ladies footballers brought the Lynch Cup back to UL for the first time. Despite a loss to DIT in the group and wins over DKIT and IT Tralee ensured them a place at the Ladies Football Weekend. A strong performance in the semi-final against WIT set up a replay against DIT and a commanding performance from start to finish saw the girls lift the Lynch Cup and Laura Rodgers put in a player of the match performance.
Our intermediate camogie team stormed through the Munster stages of the championship defeating UCC and Mary I to reach an All-Ireland final against Maynooth University. Proving to be the stronger team on the day, the girls came out with a 7-11 to 1-3 win.
Our intermediate hurlers captured the Munster title in a pulsating game against UCC, coming out on top by 3 points. This set up an All-Ireland final against UCD which didn't go UL's way after a strong UCD team managed to best our men by a single point.
Unfortunately, it wasn't to be back-to-back titles for our Fresher 1 hurlers as they agonisingly lost out to rivals LIT at the quarter-final stage. Our Fresher 2 hurlers however, were crowned All Ireland champions for 2016. The team never lost a game all year and found themselves in the reverse fixture of the League final. They ran out eventual winners on a score line of 2-21 to 3-07 after a fantastic display. Their junior counterparts weren't so lucky as they lost out to UCD in the semi-final by four points.
So with two All-Ireland League titles, a Fresher's Blitz title, three All-Ireland championships and a Munster title in the bag (and hopefully more to come!), the 2015/2016 season will go down in the history books as a very successful one for the club. We want to thank all the players and management who have given so much to UL this year. We want to especially thank all the players who have worn the jersey for the last time and wish them all the best for the future. We would also like to thank our sponsors, the Castletroy Park Hotel for their invaluable support throughout the year and also to Bank of Ireland and Munster Council for their support throughout our league and championship campaigns. Thank you to all our supporters who travelled to games and sent on good wishes to our teams. This club is part of the UL community and the greatness of the club is epitomised by its members and supporters