The joint ticket of 'JCB' has successfully been elected to all three sabbatical positions for 2017/18.
The team of Jack Shelly, Roberta Harrington and Conor Hussey will assume the offices of President, DP Welfare and VP Academic respectively at the end of May.
Following the eliminations and vote transfers of RON, Christian Tan, and Aoife O'Brien; 4th Year Physical Education and Mathematics student Conor Hussey was elected VP Academic with 2169 votes compared to James Liston's 1743.
The position of DP Welfare Officer was immediately announced with 4th Year Physical Education and Irish student Roberta Harrington winning over Rebecca Rose Wray – Harrington exceeded the quota of 2213 with a total of 2783 votes.
The race for the position of President was eventually won by 2nd Year Business Studies student Jack Shelly after he received 2148 votes, including transfers, to eliminate Lorna Horgan.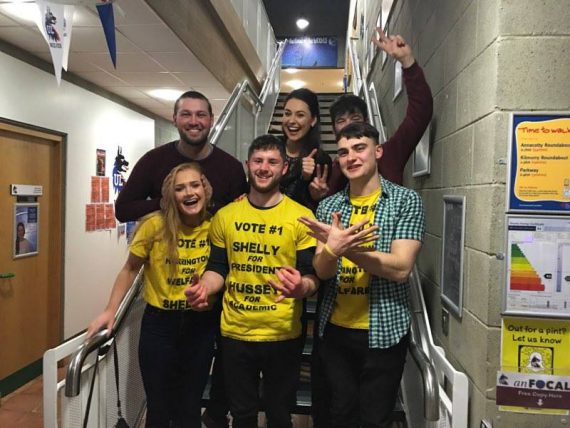 This year saw record voter numbers for a ULSU election with a 32.75% (4664) turnout – the highest SU election turnout in the country.
The election took a controversial turn late yesterday evening when it was announced that Lorna Horgan would not be disqualified from the race after breaking official election rules.
ULSU Democracy and Development Manager Liz Gabbett, who announced the official results last night at the Stables Club, said: "I want to thank all of the candidates and campaign teams for running an amazing election campaign this week – it was like no other I've experienced before."
Speaking to ULFM today, newly-elected Welfare Officer Roberta Harrington said: "Getting the three in was obviously the dream but we didn't think it was going to be done.
"No matter who gets in there's going to be negativity, there's always going to be someone out to get you."