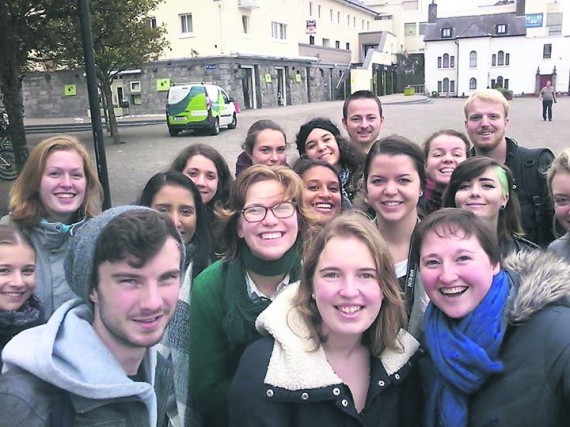 By Rachel West
One thing I've learned from this semester is that drinking tea and chatting with friends is something I'll never get tired of. New places, New people, New tea. What's not to love?
Since the start of the semester Tea Society has held many events from casual, weekly meetings in the millstream common room on Wednesdays, to our themed Tuesday events, to participating in SoUL Fest, to going on trips to different counties.
This semester alone Tea Appreciation Society has gone to Galway twice and made the trip out to Ennis to see what our neighbours have to offer. During these trips we had the opportunity to go to different cafes in both places and sample all the finest teas in the town, for example An Cupán Tae and their wide variety of tea in Galway city, and the Tea Cosy in Ennis.
We had the opportunity to visit different places such as museums, cathedrals, and go for walks along the river banks. Tea society is so much more than a place to just sit around and drink tea, it is a place where you can go to sit around, drink tea, relax and socialise in a safe and comfortable environment.
Our table quiz, that was held in the Sports bar, was a huge success. Thank you to all who attended, and congratulations to our prize winners. For these next two weeks, tea society will be running study meetings for our members in which you can go and study in a quiet area of the millstream, or where you can take a break from your studies with a sociable cup of tea.
As for next semester, there are many exciting things in store, the main one being a four day trip to Scotland. As there are a limited number of places, not everyone will be able to attend. However, there are other trips to look forward too such as meeting with UCD Food Soc in Dublin, as well as more trips to Ennis and Galway and maybe some other places as well.
We will play host to a Death Café (I promise, you won't die!); International Tea Night; and TeaTotallers party for Charity Week. For details about the Scotland trip, please visit our Facebook page: UL Tea Appreciation Society. Finally, we would like to wish you all the very best of luck in your exams, a wonderful Christmas and best wishes in the New Year.